Market Research Report
A quick peek into the report
Table of Contents
1.1 Global Market Outlook
1.1.1 Product Definition
1.1.2 Inclusion and Exclusion Criteria
1.1.3 Key Findings
1.1.4 Assumptions and Limitations
1.1.5 Global Market Scenario
1.1.5.1 Realistic Growth Scenario
1.1.5.2 Optimistic Growth Scenario
1.1.5.3 Pessimistic/Conservative Growth Scenario
1.2 Industry Outlook
1.2.1 Key Trends
1.2.1.1 Hyperspectral Imaging for Screening of Cancer Cells
1.2.1.2 Wound Diagnosis with the Help of Hand Handled/Mobile Phone Integrated Hyperspectral Imaging Cameras
1.2.1.3 Increase in Partnerships and Collaborations Among Hyperspectral Imaging Companies for Development of Innovative Products
1.2.2 Opportunity Assessment
1.2.2.1 Short-Term Potential
1.2.2.2 Long-Term Potential
1.2.3 Patent Analysis
1.2.3.1 Awaited Technological Developments
1.2.3.2 Patent Filing Trend (by Country/Cluster)
1.2.3.3 Patent Filing Trend (by Year)
1.2.4 Product Benchmarking
1.2.5 Case Studies
1.2.5.1 Quality Assurance Monitoring of Pharmaceutical Products
1.2.5.2 Intraoperative Brain Cancer Detection Using Hyperspectral Imaging
1.2.6 Gap Analysis
1.2.6.1 Gap Analysis in Healthcare
1.2.6.2 Gap Analysis in Agriculture
1.3 Impact of COVID-19 on the Global Hyperspectral Imaging Market
1.3.1 Impact on Market Size
1.3.1.1 Pre-COVID Phase
1.3.1.2 During COVID-19 Phase
1.3.1.3 Post-COVID-19 Phase
1.3.2 Market Entry Barriers and Opportunities
1.4 Business Dynamics
1.4.1 Impact Analysis
1.4.2 Business Drivers
1.4.2.1 Wide-Spread Applications of Hyperspectral Imaging Technology
1.4.2.2 Increasing Demand and Investments from the Military and Defense Sectors
1.4.2.3 Increasing Investments by the Government for Research and Development Activities
1.4.2.4 Increasing Prevalence of Chronic Disorders and Geriatric Population Boosting the Growth of Medical Hyperspectral Imaging
1.4.2.5 Growing Awareness Regarding Early Diagnosis of Diseases
1.4.2.6 Increased Global Food Safety Concerns
1.4.3 Business Restraints
1.4.3.1 High Cost of The Hyperspectral Devices
1.4.3.2 Lack of Infrastructure and Skilled Professionals to Support Hyperspectral Devices
1.4.3.3 High Volume of Produced Data
1.4.4 Business Opportunities
1.4.4.1 Increasing Demand in Developing Countries
1.4.4.2 Technological Advancements
2.1 Opportunity Assessment
2.2 Growth Share Matrix
2.3 Healthcare
2.3.1 Medical Imaging/Diagnostics
2.3.2 Pharmaceuticals
2.3.3 Image-Guided Surgery
2.3.4 Others
2.4 Defense
2.5 Food Inspection
2.6 Mining and Material
2.7 Environmental Monitoring and Agriculture
2.8 Others (Art Conservation, Machine Vision, and Optical Sorting)
3.1 Opportunity Assessment
3.2 Growth-Share Matrix
3.3 Push-Broom
3.4 Snap-Shot
3.5 Others (Whiskbroom (Point Scanning), Tunable Filters (Wavelength Scanning), and Imaging FTIR (Time Scanning))
4.1 Opportunity Assessment
4.2 Growth-Share Matrix
4.3 Visible Near-Infrared Hyperspectral Imaging
4.4 Short-Wave Infrared Hyperspectral Imaging
4.5 Mid-Wave Infrared and Long-Wave Infrared Hyperspectral Imaging
4.6 Visible Hyperspectral Imaging
4.7 Others
5.1 Opportunity Assessment
5.2 Growth-Share Matrix
5.3 Hyperspectral Imaging Cameras
5.4 Other Accessories
6.1 North America
6.1.1 Key Findings and Opportunity Assessment
6.1.2 Regulatory Framework
6.1.3 Market Dynamics
6.1.3.1 Impact Analysis
6.1.4 Sizing and Forecast Analysis
6.1.4.1 North America Hyperspectral Imaging Market (by Application)
6.1.4.2 North America Hyperspectral Imaging Market (by Technology)
6.1.4.3 North America Hyperspectral Imaging Market (by Spectral Range)
6.1.4.4 North America Hyperspectral Imaging Market (by Product)
6.1.5 North America Hyperspectral Imaging Market (by Country)
6.1.5.1 U.S.
6.1.5.1.1 Market Dynamics
6.1.5.1.2 Sizing and Forecast Analysis
6.1.5.1.2.1 U.S. Hyperspectral Imaging Market (by Application)
6.1.5.1.2.2 U.S. Hyperspectral Imaging Market (by Technology)
6.1.5.1.2.3 U.S. Hyperspectral Imaging Market (by Spectral Range)
6.1.5.1.2.4 U.S. Hyperspectral Imaging Market (by Product)
6.1.5.2 Canada
6.1.5.2.1 Market Dynamics
6.1.5.2.2 Sizing and Forecast Analysis
6.1.5.2.2.1 Canada Hyperspectral Imaging Market (by Application)
6.1.5.2.2.2 Canada Hyperspectral Imaging Market (by Technology)
6.1.5.2.2.3 Canada Hyperspectral Imaging Market (by Spectral Range)
6.1.5.2.2.4 Canada Hyperspectral Imaging Market (by Product)
6.2 Europe
6.2.1 Key Findings and Opportunity Assessment
6.2.2 Regulatory Framework
6.2.3 Market Dynamics
6.2.3.1 Impact Analysis
6.2.4 Sizing and Forecast Analysis
6.2.4.1 Europe Hyperspectral Imaging Market (by Application)
6.2.4.2 Europe Hyperspectral Imaging Market (by Technology)
6.2.4.3 Europe Hyperspectral Imaging Market (by Spectral Range)
6.2.4.4 Europe Hyperspectral Imaging Market (by Product)
6.2.5 Europe Hyperspectral Imaging Market (by Country)
6.2.5.1 Germany
6.2.5.1.1 Market Dynamics
6.2.5.1.2 Sizing and Forecast Analysis
6.2.5.1.2.1 Germany Hyperspectral Imaging Market (by Application)
6.2.5.1.2.2 Germany Hyperspectral Imaging Market (by Technology)
6.2.5.1.2.3 Germany Hyperspectral Imaging Market (by Spectral Range)
6.2.5.1.2.4 Germany Hyperspectral Imaging Market (by Product)
6.2.5.2 France
6.2.5.2.1 Market Dynamics
6.2.5.2.2 Sizing and Forecast Analysis
6.2.5.2.2.1 France Hyperspectral Imaging Market (by Application)
6.2.5.2.2.2 France Hyperspectral Imaging Market (by Technology)
6.2.5.2.2.3 France Hyperspectral Imaging Market (by Spectral Range)
6.2.5.2.2.4 France Hyperspectral Imaging Market (by Product)
6.2.5.3 U.K.
6.2.5.3.1 Market Dynamics
6.2.5.3.2 Sizing and Forecast Analysis
6.2.5.3.2.1 U.K. Hyperspectral Imaging Market (by Application)
6.2.5.3.2.2 U.K. Hyperspectral Imaging Market (by Technology)
6.2.5.3.2.3 U.K. Hyperspectral Imaging Market (by Spectral Range)
6.2.5.3.2.4 U.K. Hyperspectral Imaging Market (by Product)
6.2.5.4 Italy
6.2.5.4.1 Market Dynamics
6.2.5.4.2 Sizing and Forecast Analysis
6.2.5.4.2.1 Italy Hyperspectral Imaging Market (by Application)
6.2.5.4.2.2 Italy Hyperspectral Imaging Market (by Technology)
6.2.5.4.2.3 Italy Hyperspectral Imaging Market (by Spectral Range)
6.2.5.4.2.4 Italy Hyperspectral Imaging Market (by Product)
6.2.5.5 Spain
6.2.5.5.1 Market Dynamics
6.2.5.5.2 Sizing and Forecast Analysis
6.2.5.5.2.1 Spain Hyperspectral Imaging Market (by Application)
6.2.5.5.2.2 Spain Hyperspectral Imaging Market (by Technology)
6.2.5.5.2.3 Spain Hyperspectral Imaging Market (by Spectral Range)
6.2.5.5.2.4 Spain Hyperspectral Imaging Market (by Product)
6.2.5.6 Rest-of-Europe
6.2.5.6.1 Market Dynamics
6.2.5.6.2 Sizing and Forecast Analysis
6.2.5.6.2.1 Rest-of-Europe Hyperspectral Imaging Market (by Application)
6.2.5.6.2.2 Rest-of-Europe Hyperspectral Imaging Market (by Technology)
6.2.5.6.2.3 Rest-of-Europe Hyperspectral Imaging Market (by Spectral Range)
6.2.5.6.2.4 Rest-of-Europe Hyperspectral Imaging Market (by Product)
6.3 Asia-Pacific
6.3.1 Key Findings and Opportunity Assessment
6.3.2 Regulatory Framework
6.3.3 Market Dynamics
6.3.3.1 Impact Analysis
6.3.4 Sizing and Forecast Analysis
6.3.4.1 Asia-Pacific Hyperspectral Imaging Market (by Application)
6.3.4.2 Asia-Pacific Hyperspectral Imaging Market (by Technology)
6.3.4.3 Asia-Pacific Hyperspectral Imaging Market (by Spectral Range)
6.3.4.4 Asia-Pacific Hyperspectral Imaging Market (by Product)
6.3.5 Asia-Pacific Hyperspectral Imaging Market (by Country)
6.3.5.1 Japan
6.3.5.1.1 Market Dynamics
6.3.5.1.2 Sizing and Forecast Analysis
6.3.5.1.2.1 Japan Hyperspectral Imaging Market (by Application)
6.3.5.1.2.2 Japan Hyperspectral Imaging Market (by Technology)
6.3.5.1.2.3 Japan Hyperspectral Imaging Market (by Spectral Range)
6.3.5.1.2.4 Japan Hyperspectral Imaging Market (by Product)
6.3.5.2 China
6.3.5.2.1 Market Dynamics
6.3.5.2.2 Sizing and Forecast Analysis
6.3.5.2.2.1 China Hyperspectral Imaging Market (by Application)
6.3.5.2.2.2 China Hyperspectral Imaging Market (by Technology)
6.3.5.2.2.3 China Hyperspectral Imaging Market (by Spectral Range)
6.3.5.2.2.4 China Hyperspectral Imaging Market (by Product)
6.3.5.3 Australia
6.3.5.3.1 Market Dynamics
6.3.5.3.2 Sizing and Forecast Analysis
6.3.5.3.2.1 Australia Hyperspectral Imaging Market (by Application)
6.3.5.3.2.2 Australia Hyperspectral Imaging Market (by Technology)
6.3.5.3.2.3 Australia Hyperspectral Imaging Market (by Spectral Range)
6.3.5.3.2.4 Australia Hyperspectral Imaging Market (by Product)
6.3.5.4 India
6.3.5.4.1 Market Dynamics
6.3.5.4.2 Sizing and Forecast Analysis
6.3.5.4.2.1 India Hyperspectral Imaging Market (by Application)
6.3.5.4.2.2 India Hyperspectral Imaging Market (by Technology)
6.3.5.4.2.3 India Hyperspectral Imaging Market (by Spectral Range)
6.3.5.4.2.4 India Hyperspectral Imaging Market (by Product)
6.3.5.5 South Korea
6.3.5.5.1 Market Dynamics
6.3.5.5.2 Sizing and Forecast Analysis
6.3.5.5.2.1 South Korea Hyperspectral Imaging Market (by Application)
6.3.5.5.2.2 South Korea Hyperspectral Imaging Market (by Technology)
6.3.5.5.2.3 South Korea Hyperspectral Imaging Market (by Spectral Range)
6.3.5.5.2.4 South Korea Hyperspectral Imaging Market (by Product)
6.3.5.6 Rest-of-Asia-Pacific
6.3.5.6.1 Market Dynamics
6.3.5.6.2 Sizing and Forecast Analysis
6.3.5.6.2.1 Rest-of-Asia-Pacific Hyperspectral Imaging Market (by Application)
6.3.5.6.2.2 Rest-of-Asia-Pacific Hyperspectral Imaging Market (by Technology)
6.3.5.6.2.3 Rest-of-Asia-Pacific Hyperspectral Imaging Market (by Spectral Range)
6.3.5.6.2.4 Rest-of-Asia-Pacific Hyperspectral Imaging Market (by Product)
6.4 Latin America
6.4.1 Key Findings and Opportunity Assessment
6.4.2 Regulatory Framework
6.4.3 Market Dynamics
6.4.3.1 Impact Analysis
6.4.4 Sizing and Forecast Analysis
6.4.4.1 Latin America Hyperspectral Imaging Market (by Application)
6.4.4.2 Latin America Hyperspectral Imaging Market (by Technology)
6.4.4.3 Latin America Hyperspectral Imaging Market (by Spectral Range)
6.4.4.4 Latin America Hyperspectral Imaging Market (by Product)
6.4.5 Latin America Hyperspectral Imaging Market (by Country)
6.4.5.1 Brazil
6.4.5.1.1 Market Dynamics
6.4.5.1.2 Sizing and Forecast Analysis
6.4.5.1.2.1 Brazil Hyperspectral Imaging Market (by Application)
6.4.5.1.2.2 Brazil Hyperspectral Imaging Market (by Technology)
6.4.5.1.2.3 Brazil Hyperspectral Imaging Market (by Spectral Range)
6.4.5.1.2.4 Brazil Hyperspectral Imaging Market (by Product)
6.4.5.2 Mexico
6.4.5.2.1 Market Dynamics
6.4.5.2.2 Sizing and Forecast Analysis
6.4.5.2.2.1 Mexico Hyperspectral Imaging Market (by Application)
6.4.5.2.2.2 Mexico Hyperspectral Imaging Market (by Technology)
6.4.5.2.2.3 Mexico Hyperspectral Imaging Market (by Spectral Range)
6.4.5.2.2.4 Mexico Hyperspectral Imaging Market (by Product)
6.4.5.3 Rest-of-Latin America
6.4.5.3.1 Market Dynamics
6.4.5.3.2 Sizing and Forecast Analysis
6.4.5.3.2.1 Rest-of-Latin America Hyperspectral Imaging Market (by Application)
6.4.5.3.2.2 Rest-of-Latin America Hyperspectral Imaging Market (by Technology)
6.4.5.3.2.3 Rest-of-Latin America Hyperspectral Imaging Market (by Spectral Range)
6.4.5.3.2.4 Rest-of-Latin America Hyperspectral Imaging Market (by Product)
6.5 Middle East and Africa
6.5.1 Key Findings and Opportunity Assessment
6.5.2 Market Dynamics
6.5.2.1 Impact Analysis
6.5.3 Sizing and Forecast Analysis
6.5.3.1 Middle East and Africa Hyperspectral Imaging Market (by Application)
6.5.3.2 Middle East and Africa Hyperspectral Imaging Market (by Technology)
6.5.3.3 Middle East and Africa Hyperspectral Imaging Market (by Spectral Range)
6.5.3.4 Middle East and Africa Hyperspectral Imaging Market (by Product)
6.5.4 Middle East and Africa Hyperspectral imaging Market (by Country)
6.5.4.1 U.A.E.
6.5.4.1.1 Market Dynamics
6.5.4.1.2 Sizing and Forecast Analysis
6.5.4.1.2.1 U.A.E. Hyperspectral Imaging Market (by Application)
6.5.4.1.2.2 U.A.E. Hyperspectral Imaging Market (by Technology)
6.5.4.1.2.3 U.A.E. Hyperspectral Imaging Market (by Spectral Range)
6.5.4.1.2.4 U.A.E. Hyperspectral Imaging Market (by Product)
6.5.4.2 South Africa
6.5.4.2.1 Market Dynamics
6.5.4.2.2 Sizing and Forecast Analysis
6.5.4.2.3 South Africa Hyperspectral Imaging Market (by Application)
6.5.4.2.3.1 South Africa Hyperspectral Imaging Market (by Technology)
6.5.4.2.3.2 South Africa Hyperspectral Imaging Market (by Spectral Range)
6.5.4.2.3.3 South Africa Hyperspectral Imaging Market (by Product)
6.5.4.3 Rest-of-Middle East and Africa
6.5.4.3.1 Market Dynamics
6.5.4.3.2 Sizing and Forecast Analysis
6.5.4.3.3 Rest-of-Middle East and Africa Hyperspectral Imaging Market (by Application)
6.5.4.3.3.1 Rest-of-Middle East and Africa Hyperspectral Imaging Market (by Technology)
6.5.4.3.3.2 Rest-of-Middle East and Africa Hyperspectral Imaging Market (by Spectral Range)
6.5.4.3.3.3 Rest-of-Middle East and Africa Hyperspectral Imaging Market (by Product)
7.1 Competitive Benchmarking
7.1.1 Competitive Landscape
7.1.1.1 Key Strategies and Developments
7.1.1.1.1 Partnerships, Alliances, and Business Expansions
7.1.1.1.2 New Offerings
7.1.1.1.3 Mergers and Acquisitions
7.1.1.1.4 Funding Activities
7.1.1.1.5 Regulatory and Legal Activities
7.1.2 Established Companies
7.1.2.1 BaySpec, Inc.
7.1.2.1.1 Company Overview
7.1.2.1.2 Role of BaySpec, Inc. in the Global Hyperspectral Imaging Market
7.1.2.1.3 Product Portfolio
7.1.2.1.4 Recent Developments
7.1.2.1.5 Target Customers
7.1.2.1.6 Analyst Perspectives
7.1.2.2 Corning Incorporated
7.1.2.2.1 Company Overview
7.1.2.2.2 Role of Corning Incorporated in the Global Hyperspectral Imaging Market
7.1.2.2.3 Product Portfolio
7.1.2.2.4 Financials
7.1.2.2.5 Recent Developments
7.1.2.2.6 Target Customers
7.1.2.2.7 Analyst Perspectives
7.1.2.3 CytoViva, Inc.
7.1.2.3.1 Company Overview
7.1.2.3.2 Role of Cytoviva, Inc. in the Global Hyperspectral Imaging Market
7.1.2.3.3 Product Portfolio
7.1.2.3.4 Recent Developments
7.1.2.3.5 Target Customers
7.1.2.3.6 Analyst Perspectives
7.1.2.4 Headwall Photonics, Inc.
7.1.2.4.1 Company Overview
7.1.2.4.2 Role of Headwall Photonics, Inc. in the Global Hyperspectral Imaging Market
7.1.2.4.3 Product Portfolio
7.1.2.4.4 Recent Developments
7.1.2.4.5 Target Customers
7.1.2.4.6 Analyst Perspectives
7.1.2.5 HORIBA, Ltd.
7.1.2.5.1 Company Overview
7.1.2.5.2 Role of HORIBA, Ltd. in the Global Hyperspectral Imaging Market
7.1.2.5.3 Product Portfolio
7.1.2.5.4 Financials
7.1.2.5.5 Recent Developments
7.1.2.5.6 Target Customers
7.1.2.5.7 Analyst Perspectives
7.1.2.6 HyperMed Imaging, Inc.
7.1.2.6.1 Company Overview
7.1.2.6.2 Role of HyperMed Imaging, Inc. in the Global Hyperspectral Imaging Market
7.1.2.6.3 Product Portfolio
7.1.2.6.4 Recent Developments
7.1.2.6.5 Target Customers
7.1.2.6.6 Analyst Perspectives
7.1.2.7 IMEC International
7.1.2.7.1 Company Overview
7.1.2.7.2 Role of IMEC International in the Global Hyperspectral Imaging Market
7.1.2.7.3 Product Portfolio
7.1.2.7.4 Recent Developments
7.1.2.7.5 Target Customers
7.1.2.7.6 Analyst Perspectives
7.1.2.8 Inno-spec GmbH
7.1.2.8.1 Company Overview
7.1.2.8.2 Role of Inno-spec GmbH in Global Hyperspectral Imaging Market
7.1.2.8.3 Product Portfolio
7.1.2.8.4 Target Customers
7.1.2.8.5 Analyst Perspectives
7.1.2.9 Konica Minolta, Inc. (Specim Spectral Imaging Ltd.)
7.1.2.9.1 Company Overview
7.1.2.9.2 Role of Konica Minolta Inc. in the Global Hyperspectral Imaging Market
7.1.2.9.3 Product Portfolio
7.1.2.9.4 Financials
7.1.2.9.5 Recent Developments
7.1.2.9.6 Target Customers
7.1.2.9.7 Analyst Perspectives
7.1.2.10 Norsk Elektro Optikk A/S
7.1.2.10.1 Company Overview
7.1.2.10.2 Role of Norsk Elektro Optikk A/S in the Global Hyperspectral Imaging Market
7.1.2.10.3 Product Portfolio
7.1.2.10.4 Recent Developments
7.1.2.10.5 Target Customers
7.1.2.10.6 Analyst Perspectives
7.1.2.11 Photon Etc.
7.1.2.11.1 Company Overview
7.1.2.11.2 Role of Photon Etc. in the Global Hyperspectral Imaging Market
7.1.2.11.3 Product Portfolio
7.1.2.11.4 Target Customers
7.1.2.11.5 Analyst Perspectives
7.1.2.12 Resonon, Inc.
7.1.2.12.1 Company Overview
7.1.2.12.2 Role of Resonon, Inc. in the Global Hyperspectral Imaging Market
7.1.2.12.3 Product Portfolio
7.1.2.12.4 Recent Developments
7.1.2.12.5 Target Customers
7.1.2.12.6 Analyst Perspectives
7.1.2.13 Swift Medical Inc.
7.1.2.13.1 Company Overview
7.1.2.13.2 Role of Swift Medical, Inc. in the Global Hyperspectral Imaging Market
7.1.2.13.3 Product Portfolio
7.1.2.13.4 Recent Developments
7.1.2.13.5 Target Customers
7.1.2.13.6 Analyst Perspectives
7.1.2.14 Teledyne FLIR LLC
7.1.2.14.1 Company Overview
7.1.2.14.2 Role of Teledyne FLIR LLC in the Global Hyperspectral Imaging Market
7.1.2.14.3 Product Portfolio
7.1.2.14.4 Financials
7.1.2.14.5 Recent Developments
7.1.2.14.6 Target Customers
7.1.2.14.7 Analyst Perspectives
7.1.3 Emerging Companies
7.1.3.1 Clyde Hyperspectral Imaging and Technology Ltd.
7.1.3.1.1 Company Overview
7.1.3.1.2 Role of Clyde Hyperspectral Imaging and Technology Ltd. in the Global Hyperspectral Imaging Market
7.1.3.1.3 Product Portfolio
7.1.3.1.4 Target Customers
7.1.3.1.5 Analyst Perspectives
7.1.3.2 Cubert GmbH
7.1.3.2.1 Company Overview
7.1.3.2.2 Role of Cubert GmbH in the Global Hyperspectral Imaging Market
7.1.3.2.3 Product Portfolio
7.1.3.2.4 Recent Development
7.1.3.2.5 Target Customers
7.1.3.2.6 Analyst Perspectives
7.1.3.3 Diaspective Vision GmbH
7.1.3.3.1 Company Overview
7.1.3.3.2 Role of Diaspective Vision GmbH in the Global Hyperspectral Imaging Market
7.1.3.3.3 Product Portfolio
7.1.3.3.4 Recent Developments
7.1.3.3.5 Target Customers
7.1.3.3.6 Analyst Perspectives
7.1.3.4 Emberion
7.1.3.4.1 Company Overview
7.1.3.4.2 Role of Emberion in Global Hyperspectral Imaging Market
7.1.3.4.3 Product Portfolio
7.1.3.4.4 Recent Developments
7.1.3.4.5 Target Customers
7.1.3.4.6 Analyst Perspectives
7.1.3.5 Gamaya
7.1.3.5.1 Company Overview
7.1.3.5.2 Role of Gamaya in the Global Hyperspectral Imaging Market
7.1.3.5.3 Product Portfolio
7.1.3.5.4 Recent Developments
7.1.3.5.5 Target Customers
7.1.3.5.6 Analyst Perspectives
7.1.3.6 HAIP Solutions GmbH
7.1.3.6.1 Company Overview
7.1.3.6.2 Role of HAIP Solutions GmbH in Global Hyperspectral Imaging Market
7.1.3.6.3 Product Portfolio
7.1.3.6.4 Target Customers
7.1.3.6.5 Analyst Perspectives
Table 1: Global Hyperspectral Imaging Market, Key Collaborations and Partnerships
Table 2: Global Hyperspectral Imaging Market, Entry Barriers, and Possible Solutions
Table 3: Key Hyperspectral Imaging Cameras Providers
Table 4: Key Hyperspectral Imaging Accessories Providers
Table 5: North America Hyperspectral Imaging Market, Regulatory Framework
Table 6: North America Hyperspectral Imaging Market, Impact Analysis
Table 7: Europe Hyperspectral Imaging Market, Impact Analysis
Table 8: Asia-Pacific Hyperspectral Imaging Market, Impact Analysis
Table 9: Latin America Hyperspectral Imaging Market, Impact Analysis
Table 10: Middle East and Africa Hyperspectral Imaging Market, Impact Analysis
Figure 1: Global Hyperspectral Imaging Market, $Million, 2020-2027
Figure 2: Global Hyperspectral Imaging Market, Impact Analysis
Figure 3: Global Hyperspectral Imaging Market (by Region), $Million, 2021 and 2027
Figure 4: Global Hyperspectral Imaging Market, Key Developments Analysis, January 2018-May 2022
Figure 5: Global Hyperspectral Imaging Market Segmentation
Figure 6: Global Hyperspectral Imaging Market Research Methodology
Figure 7: Primary Research
Figure 8: Secondary Research
Figure 9: Data Triangulation
Figure 10: Global Hyperspectral Imaging Market Research Process
Figure 11: Assumptions and Limitations
Figure 12: Global Hyperspectral Imaging Market, Potential Forecast Scenarios
Figure 13: Global Hyperspectral Imaging Market Size and Growth Potential (Realistic Scenario), $Million, 2020-2027
Figure 14: Global Hyperspectral Imaging Market Size and Growth Potential (Optimistic Scenario), $Million, 2020-2027
Figure 15: Global Hyperspectral Imaging Market Size and Growth Potential (Pessimistic Scenario), $Million, 2020-2027
Figure 16: Global Hyperspectral Imaging Market Key Trends, Short-Term Potential
Figure 17: Global Hyperspectral imaging Market Key Trends, Long-Term Potential
Figure 18: Global Hyperspectral Imaging Market, Patent Analysis (by Country), January 2018-May 2022
Figure 19: Global Hyperspectral Imaging Market, Patent Analysis (by Year), January 2018-May 2022
Figure 20: Global Hyperspectral Imaging Market, Product Benchmarking (by Application)
Figure 21: Gaps in Hyperspectral Imaging in Healthcare Market
Figure 22: Gap Analysis for Hyperspectral Imaging in Healthcare Market
Figure 23: Procedure to Overcome Gaps in Hyperspectral Imaging in Healthcare Market
Figure 24: Gaps in Hyperspectral Imaging in Agriculture Market
Figure 25: Gap Analysis for Hyperspectral Imaging Market in Agriculture
Figure 26: Procedure to Overcome Gaps in Hyperspectral Imaging in Agriculture Market
Figure 27: Global Hyperspectral Imaging Market, Pre-COVID-19 Phase, $Million, 2019-2027
Figure 28: Global Hyperspectral Imaging Market, Impact Analysis
Figure 29: Cancer Prevalence Forecast in Different Regions (2020, 2030, and 2040)
Figure 30: Global Hyperspectral Imaging Market (by Application)
Figure 31: Global Hyperspectral Imaging Market Incremental Opportunity (by Application), $Million, 2021-2027
Figure 32: Global Hyperspectral Imaging Market, Growth-Share Matrix (by Applications), 2021-2027
Figure 33: Global Hyperspectral Imaging Market (Healthcare), $Million, 2020-2027
Figure 34: Global Hyperspectral Imaging in Healthcare Market (Medical Imaging/Diagnostics), $Million, 2020-2027
Figure 35: Global Hyperspectral Imaging in Healthcare Market (Pharmaceuticals), $Million, 2020-2027
Figure 36: Global Hyperspectral Imaging in Healthcare Market (Image-Guided Surgery), $Million, 2020-2027
Figure 37: Global Hyperspectral Imaging in Healthcare Market (Others), $Million, 2020-2027
Figure 38: Global Hyperspectral Imaging Market (Defense), $Million, 2020-2027
Figure 39: Global Hyperspectral Imaging Market (Food Inspection), $Million, 2020-2027
Figure 40: Global Hyperspectral Imaging Market (Mining and Material), $Million, 2020-2027
Figure 41: Global Hyperspectral Imaging Market (Environmental Monitoring and Agriculture), $Million, 2020-2027
Figure 42: Global Hyperspectral Imaging Market (Others), $Million, 2020-2027
Figure 43: Global Hyperspectral Imaging Market (by Technology)
Figure 44: Global Hyperspectral Imaging Market Incremental Opportunity (by Technology), $Million, 2021-2027
Figure 45: Global Hyperspectral Imaging Market, Growth-Share Matrix (by Technology), 2021-2027
Figure 46: Global Hyperspectral Imaging Market (Push-Broom), $Million, 2020-2027
Figure 47: Global Hyperspectral Imaging Market (Snapshot), $Million, 2020-2027
Figure 48: Global Hyperspectral Imaging Market (Others), $Million, 2020-2027
Figure 49: Global Hyperspectral Imaging Market (by Spectral Range)
Figure 50: Global Hyperspectral Imaging Market Incremental Opportunity (by Spectral Range), $Million, 2021-2027
Figure 51: Global Hyperspectral Imaging Market, Growth-Share Matrix (by Spectral Range), 2021-2027
Figure 52: Global Hyperspectral Imaging Market (Visible Near-Infrared HSI), $Million, 2020-2027
Figure 53: Global Hyperspectral Imaging Market (Short-Wave Infrared HSI), $Million, 2020-2027
Figure 54: Global Hyperspectral Imaging Market (Mid-Wave Infrared and Long-Wave Infrared HSI), $Million, 2020-2027
Figure 55: Global Hyperspectral Imaging Market (Visible HSI), $Million, 2020-2027
Figure 56: Global Hyperspectral Imaging Market (Others), $Million, 2020-2027
Figure 57: Global Hyperspectral Imaging Market (by Product)
Figure 58: Global Hyperspectral Imaging Market Incremental Opportunity (by Product), $Million, 2021-2027
Figure 59: Global Hyperspectral Imaging Market, Growth-Share Matrix (by Product), 2021-2027
Figure 60: Global Hyperspectral Imaging Market (Hyperspectral Imaging Cameras), $Million, 2020-2027
Figure 61: Global Hyperspectral Imaging Market (Other Accessories), $Million, 2020-2027
Figure 62: Global Hyperspectral Imaging Market Share (by Region), 2021-2027
Figure 63: North America Hyperspectral Imaging Market Incremental Opportunity (by Country), $Million, 2021-2027
Figure 64: North America Hyperspectral Imaging Market, $Million, 2020-2027
Figure 65: North America Hyperspectral Imaging Market (by Application), $Million, 2020-2027
Figure 66: North America Hyperspectral Imaging Market in Healthcare (by Application), $Million, 2020-2027
Figure 67: North America Hyperspectral Imaging Market (by Technology), $Million, 2020-2027
Figure 68: North America Hyperspectral Imaging Market (by Spectral Range), $Million, 2020-2027
Figure 69: North America Hyperspectral Imaging Market (by Product), $Million, 2020-2027
Figure 70: North America Hyperspectral Imaging Market (by Country), $Million, 2021 and 2027
Figure 71: U.S. Hyperspectral Imaging Market, $Million, 2020-2027
Figure 72: U.S. Hyperspectral Imaging Market (by Application), $Million, 2020-2027
Figure 73: U.S. Hyperspectral Imaging Market in Healthcare (by Application), $Million, 2020-2027
Figure 74: U.S. Hyperspectral Imaging Market (by Technology), $Million, 2020-2027
Figure 75: U.S. Hyperspectral Imaging Market (by Spectral Range), $Million, 2020-2027
Figure 76: U.S. Hyperspectral Imaging Market (by Product), $Million, 2020-2027
Figure 77: Canada Hyperspectral Imaging Market, $Million, 2020-2027
Figure 78: Canada Hyperspectral Imaging Market (by Application), $Million, 2020-2027
Figure 79: Canada Hyperspectral Imaging Market in Healthcare (by Application), $Million, 2020-2027
Figure 80: Canada Hyperspectral Imaging Market (by Technology), $Million, 2020-2027
Figure 81: Canada Hyperspectral Imaging Market (by Spectral Range), $Million, 2020-2027
Figure 82: Canada Hyperspectral Imaging Market (by Product), $Million, 2020-2027
Figure 83: Europe Hyperspectral Imaging Incremental Opportunity (by Country), $Million, 2021-2027
Figure 84: Europe Hyperspectral Imaging Market, $Million, 2020-2027
Figure 85: Europe Hyperspectral Imaging Market (by Application), $Million, 2020-2027
Figure 86: Europe Hyperspectral Imaging Market in Healthcare (by Application), $Million, 2020-2027
Figure 87: Europe Hyperspectral Imaging Market (by Technology), $Million, 2020-2027
Figure 88: Europe Hyperspectral Imaging Market (by Spectral Range), $Million, 2020-2027
Figure 89: Europe Hyperspectral Imaging Market (by Product), $Million, 2020-2027
Figure 90: Europe Hyperspectral Imaging Market (by Country),
Figure 91: Germany Hyperspectral Imaging Market, $Million, 2020-2027
Figure 92: Germany Hyperspectral Imaging Market (by Application), $Million, 2020-2027
Figure 93: Germany Hyperspectral Imaging Market in Healthcare (by Application), $Million, 2020-2027
Figure 94: Germany Hyperspectral Imaging Market (by Technology), $Million, 2020-2027
Figure 95: Germany Hyperspectral Imaging Market (by Spectral Range), $Million, 2020-2027
Figure 96: Germany Hyperspectral Imaging Market (by Product), $Million, 2020-2027
Figure 97: France Hyperspectral Imaging Market, $Million, 2020-2027
Figure 98: France Hyperspectral Imaging Market (by Application), $Million, 2020-2027
Figure 99: France Hyperspectral Imaging Market in Healthcare (by Application), $Million, 2020-2027
Figure 100: France Hyperspectral Imaging Market (by Technology), $Million, 2020-2027
Figure 101: France Hyperspectral Imaging Market (by Spectral Range), $Million, 2020-2027
Figure 102: France Hyperspectral Imaging Market (by Product), $Million, 2020-2027
Figure 103: U.K. Hyperspectral Imaging Market, $Million, 2020-2027
Figure 104: U.K. Hyperspectral Imaging Market (by Application), $Million, 2020-2027
Figure 105: U.K. Hyperspectral Imaging Market in Healthcare (by Application), $Million, 2020-2027
Figure 106: U.K. Hyperspectral Imaging Market (by Technology), $Million, 2020-2027
Figure 107: U.K. Hyperspectral Imaging Market (by Spectral Range), $Million, 2020-2027
Figure 108: U.K. Hyperspectral Imaging Market (by Product), $Million, 2020-2027
Figure 109: Italy Hyperspectral Imaging Market, $Million, 2020-2027
Figure 110: Italy Hyperspectral Imaging Market (by Application), $Million, 2020-2027
Figure 111: Italy Hyperspectral Imaging Market in Healthcare (by Application), $Million, 2020-2027
Figure 112: Italy Hyperspectral Imaging Market (by Technology), $Million, 2020-2027
Figure 113: Italy Hyperspectral Imaging Market (by Spectral Range), $Million, 2020-2027
Figure 114: Italy Hyperspectral Imaging Market (by Product), $Million, 2020-2027
Figure 115: Spain Hyperspectral Imaging Market, $Million, 2020-2027
Figure 116: Spain Hyperspectral Imaging Market (by Application), $Million, 2020-2027
Figure 117: Spain Hyperspectral Imaging Market in Healthcare (by Application), $Million, 2020-2027
Figure 118: Spain Hyperspectral Imaging Market (by Technology), $Million, 2020-2027
Figure 119: Spain Hyperspectral Imaging Market (by Spectral Range), $Million, 2020-2027
Figure 120: Spain Hyperspectral Imaging Market (by Product), $Million, 2020-2027
Figure 121: Rest-of-Europe Hyperspectral Imaging Market, $Million, 2020-2027
Figure 122: Rest-of-Europe Hyperspectral Imaging Market (by Application), $Million, 2020-2027
Figure 123: Rest-of-Europe Hyperspectral Imaging Market in Healthcare (by Application), $Million, 2020-2027
Figure 124: Rest-of-Europe Hyperspectral Imaging Market (by Technology), $Million, 2020-2027
Figure 125: Rest-of-Europe Hyperspectral Imaging Market (by Spectral Range), $Million, 2020-2027
Figure 126: Rest-of-Europe Hyperspectral Imaging Market (by Product), $Million, 2020-2027
Figure 127: Asia-Pacific Hyperspectral Imaging Market Incremental Opportunity (by Country), $Million, 2021-2027
Figure 128: Asia-Pacific Hyperspectral Imaging Market, $Million, 2020-2027
Figure 129: Asia-Pacific Hyperspectral Imaging Market (by Application), $Million, 2020-2027
Figure 130: Asia-Pacific Hyperspectral Imaging Market in Healthcare (by Application), $Million, 2020-2027
Figure 131: Asia-Pacific Hyperspectral Imaging Market (by Technology), $Million, 2020-2027
Figure 132: Asia-Pacific Hyperspectral Imaging Market (by Spectral Range), $Million, 2020-2027
Figure 133: Asia-Pacific Hyperspectral Imaging Market (by Product), $Million, 2020-2027
Figure 134: Asia-Pacific Hyperspectral Imaging Market (by Country), $Million, 2021 and 2027
Figure 135: Japan Hyperspectral Imaging Market, $Million, 2020-2027
Figure 136: Japan Hyperspectral Imaging Market (by Application), $Million, 2020-2027
Figure 137: Japan Hyperspectral Imaging Market in Healthcare (by Application), $Million, 2020-2027
Figure 138: Japan Hyperspectral Imaging Market (by Technology), $Million, 2020-2027
Figure 139: Japan Hyperspectral Imaging Market (by Spectral Range), $Million, 2020-2027
Figure 140: Japan Hyperspectral Imaging Market (by Product), $Million, 2020-2027
Figure 141: China Hyperspectral Imaging Market, $Million, 2020-2027
Figure 142: China Hyperspectral Imaging Market (by Application), $Million, 2020-2027
Figure 143: China Hyperspectral Imaging Market in Healthcare (by Application), $Million, 2020-2027
Figure 144: China Hyperspectral Imaging Market (by Technology), $Million, 2020-2027
Figure 145: China Hyperspectral Imaging Market (by Spectral Range), $Million, 2020-2027
Figure 146: China Hyperspectral Imaging Market (by Product), $Million, 2020-2027
Figure 147: Australia Hyperspectral Imaging Market, $Million, 2020-2027
Figure 148: Australia Hyperspectral Imaging Market (by Application), $Million, 2020-2027
Figure 149: Australia Hyperspectral Imaging Market in Healthcare (by Application), $Million, 2020-2027
Figure 150: Australia Hyperspectral Imaging Market (by Technology), $Million, 2020-2027
Figure 151: Australia Hyperspectral Imaging Market (by Spectral Range), $Million, 2020-2027
Figure 152: Australia Hyperspectral Imaging Market (by Product), $Million, 2020-2027
Figure 153: India Hyperspectral Imaging Market, $Million, 2020-2027
Figure 154: India Hyperspectral Imaging Market (by Application), $Million, 2020-2027
Figure 155: India Hyperspectral Imaging Market in Healthcare (by Application), $Million, 2020-2027
Figure 156: India Hyperspectral Imaging Market (by Technology), $Million, 2020-2027
Figure 157: India Hyperspectral Imaging Market (by Spectral Range), $Million, 2020-2027
Figure 158: India Hyperspectral Imaging Market (by Product), $Million, 2020-2027
Figure 159: South Korea Hyperspectral Imaging Market, $Million, 2020-2027
Figure 160: South Korea Hyperspectral Imaging Market (by Application), $Million, 2020-2027
Figure 161: South Korea Hyperspectral Imaging Market in Healthcare (by Application), $Million, 2020-2027
Figure 162: South Korea Hyperspectral Imaging Market (by Technology), $Million, 2020-2027
Figure 163: South Korea Hyperspectral Imaging Market (by Spectral Range), $Million, 2020-2027
Figure 164: South Korea Hyperspectral Imaging Market (by Product), $Million, 2020-2027
Figure 165: Rest-of-Asia-Pacific Hyperspectral Imaging Market, $Million, 2020-2027
Figure 166: Rest-of-Asia-Pacific Hyperspectral Imaging Market (by Application), $Million, 2020-2027
Figure 167: Rest-of-Asia-Pacific Hyperspectral Imaging Market in Healthcare (by Application), $Million, 2020-2027
Figure 168: Rest-of-Asia-Pacific Hyperspectral Imaging Market (by Technology), $Million, 2020-2027
Figure 169: Rest-of-Asia-Pacific Hyperspectral Imaging Market (by Spectral Range), $Million, 2020-2027
Figure 170: Rest-of-Asia-Pacific Hyperspectral Imaging Market (by Product), $Million, 2020-2027
Figure 171: Latin America Hyperspectral Imaging Market Incremental Opportunity (by Country), $Million, 2021-2027
Figure 172: Latin America Hyperspectral Imaging Market, $Million, 2020-2027
Figure 173: Latin America Hyperspectral Imaging Market (by Application), $Million, 2020-2027
Figure 174: Latin America Hyperspectral Imaging Market in Healthcare (by Application), $Million, 2020-2027
Figure 175: Latin America Hyperspectral Imaging Market (by Technology), $Million, 2020-2027
Figure 176: Latin America Hyperspectral Imaging Market (by Spectral Range), $Million, 2020-2027
Figure 177: Latin America Hyperspectral Imaging Market (by Product), $Million, 2020-2027
Figure 178: Latin America Hyperspectral Imaging Market (by Country), $Million, 2021 and 2027
Figure 179: Brazil Hyperspectral Imaging Market, $Million, 2020-2027
Figure 180: Brazil Hyperspectral Imaging Market (by Application), $Million, 2020-2027
Figure 181: Brazil Hyperspectral Imaging Market in Healthcare (by Application), $Million, 2020-2027
Figure 182: Brazil Hyperspectral Imaging Market (by Technology), $Million, 2020-2027
Figure 183: Brazil Hyperspectral Imaging Market (by Spectral Range), $Million, 2020-2027
Figure 184: Brazil Hyperspectral Imaging Market (by Product), $Million, 2020-2027
Figure 185: Mexico Hyperspectral Imaging Market, $Million, 2020-2027
Figure 186: Mexico Hyperspectral Imaging Market (by Application), $Million, 2020-2027
Figure 187: Mexico Hyperspectral Imaging Market in Healthcare (by Application), $Million, 2020-2027
Figure 188: Mexico Hyperspectral Imaging Market (by Technology), $Million, 2020-2027
Figure 189: Mexico Hyperspectral Imaging Market (by Spectral Range), $Million, 2020-2027
Figure 190: Mexico Hyperspectral Imaging Market (by Product), $Million, 2020-2027
Figure 191: Rest-of-Latin America Hyperspectral Imaging Market, $Million, 2020-2027
Figure 192: Rest-of-Latin America Hyperspectral Imaging Market (by Application), $Million, 2020-2027
Figure 193: Rest-of-Latin America Hyperspectral Imaging Market in Healthcare (by Application), $Million, 2020-2027
Figure 194: Rest-of-Latin America Hyperspectral Imaging Market (by Technology), $Million, 2020-2027
Figure 195: Rest-of-Latin America Hyperspectral Imaging Market (by Spectral Range), $Million, 2020-2027
Figure 196: Rest-of-Latin America Hyperspectral Imaging Market (by Product), $Million, 2020-2027
Figure 197: Middle East and Africa Hyperspectral Imaging Market Incremental Opportunity (by Country), $Million, 2021-2027
Figure 198: Middle East and Africa Hyperspectral Imaging Market, $Million, 2020-2027
Figure 199: Middle East and Africa Hyperspectral Imaging Market (by Application), $Million, 2020-2027
Figure 200: Middle East and Africa Hyperspectral Imaging Market in Healthcare (by Application), $Million, 2020-2027
Figure 201: Middle East and Africa Hyperspectral Imaging Market (by Technology), $Million, 2020-2027
Figure 202: Middle East and Africa Hyperspectral Imaging Market (by Spectral Range), $Million, 2020-2027
Figure 203: Middle East and Africa Hyperspectral Imaging Market (by Product), $Million, 2020-2027
Figure 204: Middle East and Africa Hyperspectral Imaging Market (by Country), $Million, 2021 and 2027
Figure 205: U.A.E. Hyperspectral Imaging Market, $Million, 2020-2027
Figure 206: U.A.E. Hyperspectral Imaging Market (by Application), $Million, 2020-2027
Figure 207: U.A.E. Hyperspectral Imaging Market in Healthcare (by Application), $Million, 2020-2027
Figure 208: U.A.E. Hyperspectral Imaging Market (by Technology), $Million, 2020-2027
Figure 209: U.A.E. Hyperspectral Imaging Market (by Spectral Range), $Million, 2020-2027
Figure 210: U.A.E. Hyperspectral Imaging Market (by Product), $Million, 2020-2027
Figure 211: South Africa Hyperspectral Imaging Market, $Million, 2020-2027
Figure 212: South Africa Hyperspectral Imaging Market (by Application), $Million, 2020-2027
Figure 213: South Africa Hyperspectral Imaging Market in Healthcare (by Application), $Million, 2020-2027
Figure 214: South Africa Hyperspectral Imaging Market (by Technology), $Million, 2020-2027
Figure 215: South Africa Hyperspectral Imaging Market (by Spectral Range), $Million, 2020-2027
Figure 216: South Africa Hyperspectral Imaging Market (by Product), $Million, 2020-2027
Figure 217: Rest-of-Middle East and Africa Hyperspectral Imaging Market, $Million, 2020-2027
Figure 218: Rest-of-Middle East and Africa Hyperspectral Imaging Market (by Application), $Million, 2020-2027
Figure 219: Rest-of-Middle East and Africa Hyperspectral Imaging Market in Healthcare (by Application), $Million, 2020-2027
Figure 220: Rest-of-Middle East and Africa Hyperspectral Imaging Market (by Technology), $Million, 2020-2027
Figure 221: Rest-of-Middle East and Africa Hyperspectral Imaging Market (by Spectral Range), $Million, 2020-2027
Figure 222: Rest-of-Middle East and Africa Hyperspectral Imaging Market (by Product), $Million, 2020-2027
Figure 223: Global Hyperspectral Imaging Market, Competitive Benchmarking of Key Players
Figure 224: Share of Key Developments and Strategies, January 2018-May 2022
Figure 225: Partnerships, Alliances, and Business Expansions (by Company), January 2018-May 2022
Figure 226: New Offerings (by Company), January 2018-May 2022
Figure 227: Mergers and Acquisitions (by Company), January 2018-May 2022
Figure 228: Funding Activities (by Company), January 2018-May 2022
Figure 229: Regulatory and Legal Activities (by Company), January 2018-May 2022
Figure 230: BaySpec, Inc.: Overall Product Portfolio
Figure 231: Corning Incorporated: Overall Product Portfolio
Figure 232: Corning Incorporated: Overall Financials 2019-2021
Figure 233: Corning Incorporated: Net Revenue (by Business Segment), $Million, 2019-2021
Figure 234: Corning Incorporated: Net Revenue (by Region), $Million, 2019-2021
Figure 235: Corning Incorporated: R&D Expenditure, $Million, 2019-2021
Figure 236: CytoViva Inc.: Overall Product Portfolio
Figure 237: Headwall Photonics: Overall Product Portfolio
Figure 238: HORIBA, Ltd.: Overall Product Portfolio
Figure 239: HORIBA, Ltd.: Overall Financials 2019-2021
Figure 240: HORIBA, Ltd.: Net Revenue (by Business Segment), $Million, 2019-2021
Figure 241: HORIBA, Ltd.: Net Revenue (by Region), $Million, 2019-2021
Figure 242: HORIBA, Ltd.: R&D Expenditure, $Million, 2019-2021
Figure 243: HyperMed Imaging: Overall Product Portfolio
Figure 244: IMEC International: Overall Product Portfolio
Figure 245: Inno-spec GmbH: Overall Product Portfolio
Figure 246: Konica Minolta Inc.: Overall Product Portfolio
Figure 247: Konica Minolta, Inc.: Overall Financials 2019-2021
Figure 248: Konica Minolta, Inc.: Net Revenue (by Business Segment), $Million, 2019-2021
Figure 249: Konica Minolta, Inc.: Net Revenue (by Region), $Million, 2019-2021
Figure 250: Konica Minolta, Inc.: R&D Expenditure, $Million, 2019-2021
Figure 251: Norsk Elektro Optikk A/S: Overall Product Portfolio
Figure 252: Photon Etc.: Overall Product Portfolio
Figure 253: Resonon, Inc.: Overall Product Portfolio
Figure 254: Swift Medical Inc.: Overall Product Portfolio
Figure 255: Teledyne FLIR LLC: Overall Product Portfolio
Figure 256: Teledyne FLIR LLC: Overall Financials 2019-2021
Figure 257: Teledyne FLIR LLC: Net Revenue (by Business Segment), $Million, 2019-2021
Figure 258: Teledyne FLIR LLC: Net Revenue (by Region), $Million, 2019-2021
Figure 259: Clyde Hyperspectral Imaging and Technology Ltd.: Overall Product Portfolio
Figure 260: Cubert GmbH: Overall Product Portfolio
Figure 261: Diaspective Vision GmbH: Overall Product Portfolio
Figure 262: Emberion: Overall Product Portfolio
Figure 263: Gamaya: Overall Product Portfolio
Figure 264: HAIP Solutions GmbH: Overall Product Portfolio
Market Report Coverage
Hyperspectral Imaging Market

Base Year

2021

Market Size in 2021

$791.2 Million

Forecast Period

2022-2027

Value Projection and Estimation by 2027

$1,640.3 Million

CAGR During Forecast Period

13.17%

Number of Tables

10

Number of Pages

324

Number of Figures

264
Key Market Players and Competition Synopsis
The companies that are profiled have been selected based on inputs gathered from primary experts and analysing company coverage, product portfolio, and market penetration.
Some of the prominent names established in this market are:
Company Type 1: Established Companies
• BaySpec, Inc.
• Corning Incorporated
• CytoViva, Inc.
• Headwall Photonics, Inc.
• HORIBA Ltd.
• HyperMed Imaging, Inc.
• IMEC International
• Inno-spec GmbH
• Konica Minolta, Inc.
• Norsk Elektro Optikk A/S
• Photon Etc.
• Resonon, Inc.
• Swift Medical Inc.
• Teledyne FLIR LLC
Company Type 2: Emerging Companies
• Clyde Hyperspectral Imaging and Technology Ltd.
• Cubert GmbH
• Diaspective Vision GmbH
• Emberion
• GAMAYA
• HAIP Solutions GmbH
How Can This Report Add Value to an Organization?
Product/Innovation Strategy: The product segment helps the reader understand the different types of hyperspectral products and accessories available for use in different fields. Moreover, the study provides the reader a detailed understanding of the different hyperspectral products by application, by technology, by spectral range, and by product type.
Growth/Marketing Strategy: The global hyperspectral imaging market has seen major development by key players operating in the market, such as business expansion, partnership, collaboration, and joint venture. The favored strategy for the companies has been partnerships, alliances, and business expansions to strengthen their position in the hyperspectral imaging market. For instance, in May 2022, Specim Spectral Imaging Ltd., a subsidiary of Konica Minolta, Inc., collaborated with Grupo Álava to expand its presence in Portugal and Spain.
Competitive Strategy: Key players in the global hyperspectral imaging market analyzed and profiled in the study involve established and emerging players that offer hyperspectral devices. Moreover, a detailed competitive benchmarking of the players operating in the global hyperspectral imaging market has been done to help the reader understand how players stack against each other, presenting a clear market landscape. Additionally, comprehensive competitive strategies such as partnerships, agreements, and collaborations will aid the reader in understanding the untapped revenue pockets in the market.
Industry & Technology Overview
Global Hyperspectral Imaging Market Industry Overview
The global hyperspectral imaging market was estimated to be at $791.2 million in 2021, which is expected to grow with a CAGR of 13.17% and reach $1,640.3 million by 2027. The growth in the global hyperspectral imaging market is expected to be driven by the widespread applications of hyperspectral imaging technology, the increasing demand and investments from military and defense sectors, the increased emphasis of government on research and development activities, increasing prevalence of various chronic disorders and growing geriatric population, the growing awareness regarding early diagnosis of diseases, and the increasing global food safety concerns.
Market Lifecycle Stage
The hyperspectral market is still in the nascent phase. Increased research and development activities are underway to develop more hyperspectral imaging products.
The increasing technological advancements in hospitals, diagnostic centers, military and defense sectors, agriculture practices, and research centers are some of the major opportunities in the global hyperspectral imaging market. Moreover, the increasing demand in developing regions is also an opportunity for the growth of the market.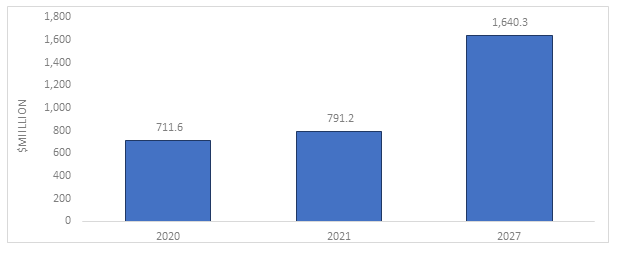 Impact of COVID-19
The COVID-19 pandemic had a debilitating impact on the global ecosystem. The pandemic led to a shutdown of production facilities, which do not come under essential goods which led to a negative impact on several markets. Hyperspectral imaging was negatively impacted since the pandemic led to a decline in the number of non-essential activities performed in the facilities and research centers, which subsequently impacted the adoption of hyperspectral imaging devices. Major players in the global hyperspectral imaging market faced disruptions in supply chains and the demand for products was also reduced substantially. However, this impact was offset by the continued R&D in the field of HSI along with newer research on how HSI could help detect COVID-19 more quickly and accurately.
The impact of the COVID-19 pandemic on the hyperspectral imaging market is expected to be short term, and as the recovery phase of the pandemic is beginning the adoption rate for hyperspectral devices has started to resume, and increased demand for HSI is expected in the future due to unique and wide-spread benefits of the technology in the several industries.
Market Segmentation:

Segmentation 1: by Application
• Healthcare (Medical Imaging/Diagnostics, Pharmaceuticals, Image-Guided Surgery, Others)
• Defense
• Environmental Monitoring and Agriculture
• Mining and Material
• Food Inspection
• Others (Art Conservation, Machine Vision, and Optical Sorting)
The global hyperspectral imaging market in the application segment is expected to be dominated by the mining and material segment.
Segmentation 2: by Technology
• Push-broom
• Snap-shot
• Others (Whiskbroom (Point Scanning), Tunable Filters (Wavelength Scanning), and Imaging FTIR (Time Scanning))
Global hyperspectral imaging is dominated by the push-broom technology segment.
Segmentation 3: by Spectral Range
• Visible Hyperspectral Imaging
• Visible Near-Infrared (VNIR) Hyperspectral Imaging
• Short-Wave Infrared (SWIR) Hyperspectral Imaging
• Mid-Wave Infrared and Long-Wave Infrared Hyperspectral Imaging
• Others
Global hyperspectral imaging is dominated by the visible near-infrared (VNIR) hyperspectral imaging segment.
Segmentation 4: by Product
• Hyperspectral Imaging Cameras
• Other Accessories
Segmentation 5: by Region
• North America - U.S., Canada
• Europe - Germany, France, U.K., Italy, Spain, Rest-of-Europe
• Asia-Pacific - Japan, China, India, Australia, South Korea, Rest-of-Asia-Pacific
• Latin America - Brazil, Mexico, Rest-of-Latin America
• Middle East and Africa - U.A.E., South Africa, Rest-of-Middle East and Africa
North America held the largest share in the global hyperspectral imaging market in 2021, and the trend is anticipated to continue during the forecast period 2022-2027.
Recent Developments in Global Hyperspectral Imaging Market
• In April 2022, IMEC International established a partnership with Bühler Group's Leybold Optics for the production of new generation, low-cost hyperspectral imaging sensors with high resolution.
• In March 2022, Swift Medical launched a hyperspectral imaging medical device to make healthcare more accessible, Swift Ray-1.
• In January 2022, Emberion received funding of €6 million ($6.36 million) from Nidoco AB, Tesi, and Verso Capital, to step up the expansion of its infrared imaging business.
• In December 2021, Emberion announced the launch of its VS20 VIS-SWIR 400-2000 nm hyperspectral imaging camera, which can be used in the application of medical diagnosis and image-guided surgeries.
• In November 2021, Diaspective Vision and OmniVision partner to develop a new medical hyperspectral imaging camera for endoscopes.
• In May 2021, Diaspective Vision GmbH launched a new series of TIVITA, TIVITA Mini, and TIVITA Mobile for the European market. The TIVITA Mini provides colored images of human tissue for diagnosis and the TIVITA Mobile allows non-invasive analysis of a wound and can be used in mobile and outpatient facilities.
• In March 2021, IMEC International established a collaboration with scientists and engineers from Katholieke Universiteit (KU) Leuven, Universitair Ziekenhuis (UZ) Leuven, and the research organization VITO for research on the early detection of Alzheimer's using hyperspectral imaging technology.
• In June 2019, Gamaya entered an alliance with Mahindra & Mahindra as the company invested $4.3 million for an 11.35% stake in Gamaya.
Demand – Drivers and Limitations
Following are the drivers for the hyperspectral imaging market:
• Wide-Spread Applications of Hyperspectral Imaging Technology
• Increasing Demand and Investments from the Military and Defense Sectors
• Increasing Investments by the Government for Research and Development Activities
• Increasing Prevalence of Chronic Disorders and Geriatric Population Boosting the Growth of Medical Hyperspectral Imaging
• Growing Awareness Regarding Early Diagnosis of Diseases
• Increased Global Food Safety Concerns
The market is expected to face some limitations too due to the following challenges:
• High Cost of The Hyperspectral Devices
• Lack of Infrastructure and Skilled Professionals to Support Hyperspectral Devices
• High Volume of Produced Data
Analyst Thoughts
According to Satyendr Singh Rajput, Lead Analyst, BIS Research, "The hyperspectral imaging market is a very niche market and is expected to grow considerably since it has great potential and can be used for several applications in several fields."
Hyperspectral Imaging Market - A Global and Regional Analysis
Analysis and Forecast, 2022-2027
Some Faq's
Frequently Asked Questions
Hyperspectral imaging is an emerging non-invasive imaging technology that can be used in several applications such as medical diagnostics, pharmaceutical applications, image-guided surgery, defence, security, food quality analysis, mining, geology, industrial applications, and environmental analysis among others. The hyperspectral imaging (HSI) technology examines a broad spectral range of light frequencies ranging from ultra-violet (UV) to infrared (IR), by developing a hypercube data which is a three-dimensional dataset having one spectral dimension and two spatial dimensions.
The key trends in the hyperspectral imaging market include the use of hyperspectral imaging for the screening of cancer cells, wound diagnosis with the help of hand handled/mobile phone integrated hyperspectral imaging cameras, and the increase in partnerships and collaborations among hyperspectral imaging companies for the development of innovative products.
The global hyperspectral imaging market has seen major development by key players operating in the market, such as business expansion, partnership, collaboration, product launches, and acquisitions and mergers. According to BIS Research analysis, the majority of the companies preferred partnerships, alliances, and business expansions as a strategy to further increase their growth in the global hyperspectral imaging market. Companies such as Headwall Photonics, Inc., Chemimage Corporation, IMEC International, Diaspective Vision GmbH, and Malvern Panalytical Ltd have majorly adopted the partnership and alliances strategies.
A new entrant can focus on hyperspectral devices for medical diagnosis and hyperspectral devices for use in military and defense sectors due to increase in demand for the same.
GAP analysis for hyperspectral imaging in medical and agriculture market.
Extensive competitive benchmarking of the top 20 players (including established and emerging players) has been done to offer a holistic view of the global hyperspectral imaging market landscape.
Market ranking analysis based on product portfolio, recent developments, and regional spread.
Investment landscape including product adoption scenario, funding, and patent analysis.
The companies which are manufacturing and commercializing hyperspectral imaging cameras and accessories for use in healthcare, defense, agriculture, mining and minerals, research institutions, and regulatory bodies.