Market Research Report
A quick peek into the report
Table of Contents
1.1 Outlook
1.1.1 Market Definition
1.1.2 Carbon Farming
1.1.2.1 Carbon Farming: Subcategories
1.1.2.2 Challenges for Carbon Farming
1.1.2.3 Carbon Sinks
1.2 Business Models for Carbon Farming
1.2.1 Action-Based Carbon Farming Models
1.2.1.1 Key Features of Action-Based Carbon Farming Models
1.2.1.2 Case Study: Action-Based Carbon Farming Model
1.2.2 Result-Based Carbon Farming Models
1.2.2.1 Key Features of Result-Based Carbon Farming Models
1.2.2.2 Case Study: Result-Based Carbon Farming Model
1.2.3 Hybrid Carbon Farming Models
1.2.3.1 Key Features of Hybrid Carbon Farming Models
1.2.3.2 Case Study: Hybrid Carbon Farming Model
2.1 List of Regulations: Regional and Country Level
2.1.1 North America
2.1.1.1 Government Initiatives and Regulatory Landscape in the Carbon Neutral Farming in North America
2.1.2 South America
2.1.2.1 Government Initiatives and Regulatory Landscape in the Carbon Neutral Farming in South America
2.1.3 Asia-Pacific
2.1.3.1 Government Initiatives and Regulatory Landscape in the Carbon Neutral Farming in Asia-Pacific
2.1.4 Europe
2.1.4.1 Government Initiatives and Regulatory Landscape in Carbon Neutral Farming in Europe
2.1.5 Middle East and Africa
2.1.5.1 Government Initiatives and Regulatory Landscape in the Carbon Neutral Farming in Middle East and Africa
2.1.6 U.K.
2.1.6.1 Government Initiatives and Regulatory Landscape in the Carbon Neutral Farming in the U.K.
2.1.7 China
2.1.7.1 Government Initiatives and Regulatory Landscape in Carbon Neutral Farming in China
3.1 Startup Landscape in Carbon Neutral Farming
3.1.1 Carbon Credit: Scope in Agriculture
3.2 Funding Landscape
3.3 Role of Renewable Energy in Carbon Neutral Farming
3.4 Innovation Ecosystem
3.4.1 Sustainable Agrochemicals
3.4.2 Carbon Neutrality Programs and Initiatives by Startups
3.4.3 Carbon Credits Distribution Model
3.4.4 Others
4.1 Case Study and Successful Implementation Review
4.1.1 Case Study 1 – Implementation of Regulation
4.1.2 Case Study 2 – Startup Positioning
4.1.3 Case Study 3 – Innovative Technology
4.1.4 Case Study 4 – Sustainable Product
5.1 Conclusion
5.1.1 Agrivoltaics (AV)
5.1.2 Agroforestry
5.1.3 Algae-Based Farming
5.1.4 Biochar
5.1.5 Carbon Offset Markets
5.1.6 Efficient Paddy Cultivation
5.1.7 Methane Mitigation in Livestock
5.1.7.1 Global Methane Pledge
5.1.8 Silvopasture
5.2 Recommendations
5.2.1 For Farmers
5.2.1.1 Integrating Renewable Energy
5.2.1.2 Growing Cover Crops and Practicing Crop Rotation
5.2.1.3 Adopting Smart Irrigation Practices
5.2.1.4 Implementing Agroforestry
5.2.1.5 Incorporating Carbon Credit and Carbon Off-Setting Programs
5.2.2 For Policy Makers
5.2.2.1 Boosting Education and Awareness Programs
5.2.2.2 Fostering Research and Development
5.2.2.3 Incentivizing Sustainable Farming Practices
5.2.2.4 Providing Market Access and Certification
5.2.2.5 Promoting Collaborations and Partnerships
5.2.2.6 Introducing Regulatory Standards
5.2.3 For Startups and Agriculture Companies
5.2.3.1 Promoting Precision Farming
5.2.3.2 Implementing Sustainable Farming Solutions
5.2.3.3 Encouraging the Concept of Carbon Markets and Certification Programs
5.2.3.3.1 Circular Economy Initiatives
5.2.3.4 Spreading Education and Awareness
5.2.3.5 Fostering Innovative Farming Methods
5.2.3.6 Financing: Key Points to Focus
5.2.3.6.1 For Startups
5.2.3.6.2 For Investors
6.1 Data Sources
6.1.1 Primary Data Sources
6.1.2 Secondary Data Sources
Table 1: Effectiveness of MRV Methods on Different Ways to Implement Carbon Farming
Table 2: Case Study: Action-based Carbon Farming Model
Table 3: Case Study: Result-based Carbon Farming Model
Table 4: Case Study: Hybrid Carbon Farming Model
Table 5: Government Initiatives and Regulatory Landscape in the Carbon Neutral Farming in North America
Table 6: Government Initiatives and Regulatory Landscape in the Carbon Neutral Farming in South America
Table 7: Government Initiatives and Regulatory Landscape in the Carbon Neutral Farming in Asia-Pacific
Table 8: Government Initiatives and Regulatory Landscape in the Carbon Neutral Farming in Europe
Table 9: Government Initiatives and Regulatory Landscape in the Carbon Neutral Farming in the Middle East and Africa
Table 10: Government Initiatives and Regulatory Landscape in the Carbon Neutral Farming in the U.K.
Table 11: Government Initiatives and Regulatory Landscape in the Carbon Neutral Farming in China
Table 12: Few Companies in Carbon Neutral Farming Space and Their Products
Table 13: Investments Raised by Top Carbon Neutral Farming Startups, as of July 2023
Table 14: Case Study- Sustainable Agrochemicals
Table 15: Case Study- Sustainable Agrochemicals
Table 16: Case Study- Carbon Credits
Table 17: Strategies to Mitigate Methane Emissions from Livestock
Figure 1: Benefits of Carbon Neutral Farming
Figure 2: GHG Emission from Agriculture in 2020 and Incremental Emissions by 2050, by Emission Source
Figure 3: Carbon Farming Sub-categories
Figure 4: Innovations in Carbon Neutral Farming
Figure 5: Methods and Practices to Achieve Carbon Neutrality in Agriculture
Figure 6: Recommendations for Carbon Neutrality in Agriculture
Figure 7: Region-wise Green House Gas (GHG) Emissions from the Agriculture Sector, 2020
Figure 8: Share of Industries in Green House Gas (GHG) Emissions in the U.S., 2021
Figure 9: GHG Emission from Agriculture in 2020 and Incremental Emissions by 2050, by Emission Source
Figure 10: Subcategories of Carbon Farming
Figure 11: Carbon Farming Mitigation Potential among European Nations
Figure 12: Challenges Hindering the Mitigation Potential of Carbon Farming
Figure 13: Concept of Carbon Sequestration
Figure 14: Projected Annual Amount of Carbon Sequestration by the MGNREGS Scheme
Figure 15: Percentage Share of Carbon Credit by Sector, 2021
Figure 16: African Development Bank (AfDB) Climate Technology Funding, by Sector, 2021
Figure 17: U.S. Venture Capital Funding in Carbon Neutral Farming Startups, 2017-2021
Figure 18: Challenges faced by Carbon Credit Management Systems
Figure 19: Implementation of Regulation in Kerala, India
Figure 20: Startup Positioning of Grassroots Carbon
Figure 21: Innovative Technology by Arise IIP
Figure 22: Sustainable Product by Corteva
Figure 23: Nitrogen Fertilizer used Per Hectare of Farmland, 2019-2020
Figure 24: Carbon Neutral Farming: Recommendations for Farmers
Figure 25: Carbon Neutral Farming: Recommendations for Policy Makers
Figure 26: Carbon Neutral Farming: Recommendations for Startups and Agriculture Companies
Figure 27: Suggested Funding Strategy for Carbon Neutral Sector Startups
Figure 28: Carbon Neutral Farming: Research Methodology
Market Report Coverage
Carbon Neutral Farming

Number of Tables

17

Number of Figures

28

Number of Pages

85
How Can This Report Add Value to an Organization?
Primary Research
The primary sources involve the carbon neutral farming industry experts and stakeholders such as data suppliers, platform developers, and service providers. Respondents such as vice presidents, CEOs, marketing directors, and technology and innovation directors have been interviewed to verify this research study's qualitative and quantitative aspects.
The key data points taken from primary sources include:
• understanding the competitive landscape
• validation of the numbers of various markets for market type
Secondary Research
This research study involves the usage of extensive secondary research, directories, company websites, and annual reports. It also makes use of databases, such as Hoovers, Bloomberg, Businessweek, and Factiva, to collect useful and effective information for an extensive, technical, market-oriented, and commercial study of the global market. In addition to the data sources, the study has been undertaken with the help of other data sources and websites, such as www.fao.org and www.worldbank.org
Secondary research was done to obtain crucial information about the industry's value chain, revenue models, the market's monetary chain, the total pool of key players, and the current and potential use cases and applications.
Industry and Technology Overview
Introduction of Carbon Neutral Farming
A series of agricultural practices known as "carbon farming" boost soil's capacity to store atmospheric carbon. These procedures are typical in regenerative agriculture, organic farming, and other methods of food production. During photosynthesis, plants capture carbon dioxide from the atmosphere and store it. When plants die, the carbon is either released back into the atmosphere or is deposited in the soil. The carbon farming techniques sequester carbon in the soil, whereas the conventional methods release CO2.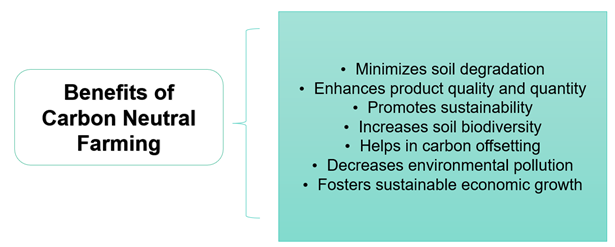 Regulatory Landscape
The implementation of carbon neutral farming practices can pose financial challenges for farmers, as it often involves significant upfront costs associated with acquiring new technologies and infrastructure. Furthermore, the adoption of precision farming techniques requires investments in specialized equipment and training. However, despite these initial financial barriers, it is crucial to provide support for the adoption of carbon neutral farming practices due to their long-term advantages, such as enhanced crop yields and improved environmental sustainability.
Governments play a vital role in providing the necessary policy frameworks, financial incentives, and technical support to enable farmers to transition to sustainable and climate-resilient agriculture. By actively promoting and implementing carbon neutral farming practices, governments contribute significantly to mitigating climate change and building a more sustainable future for agriculture and the planet. The regulatory landscape surrounding global carbon neutral farming varies across countries and regions.
Analyst's Thoughts
According to Debraj Chakraborty, Principal Analyst, BIS Research, " It is crucial to establish a comprehensive strategy that integrates carbon neutral farming practices throughout the entire agricultural value chain in order to reduce greenhouse gas emissions in agriculture. This means using precise irrigation techniques, embracing the use of renewable energy sources, and putting sustainable land management practices into practice. Each of these actions is crucial in promoting an agricultural system that is more resilient, environmentally friendly, and has a smaller carbon impact."
Carbon Neutral Farming - A Global and Regional Analysis
Focus on Carbon Neutral Farming, Startup Landscape, Government Regulations, and Innovation Analysis
Some Faq's
Frequently Asked Questions
Carbon neutral farming refers to an agricultural approach where the net amount of carbon dioxide (CO2) emissions released into the atmosphere during farming activities is balanced or offset by an equivalent amount of carbon dioxide removal or sequestration. The goal is to achieve a net-zero carbon footprint, where the total emissions from farming activities do not contribute to the accumulation of CO2 in the atmosphere, thus mitigating the effects of climate change.
By assembling specialists in science, engineering, business, policy-making, and other pertinent sectors, startups adopt an interdisciplinary approach. Startups can play a significant role in reducing climate change because governments cannot combat it on their own. Since startups can immediately start their businesses using technologies such as solar power, wind power, and remote working, they find it easier to implement tools and technology.
The company should focus on technology integration, sustainable inputs/practices, climate-resilient crop varieties, precision farming solutions, and offering comprehensive services that support farmers in adopting carbon neutral farming practices.
This report presents region-wise and sector-wise greenhouse gas (GHG) emissions and ways to combat them following the implementation of carbon neutral farming technologies. The company also has a detailed analysis of the regulatory framework and funding landscape, along with recommendations for farmers, policymakers, and technology providers.
Agribusiness, government agencies, research institutes, non-government agencies, and other stakeholders should buy this report.