Aircraft and Drones
BIS Research continuously monitors the developments in the aircraft/drone market and actively maintains an in-house database of participants and market developments. The research practice covers the entire aircraft/drone ecosystem, including urban air mobility (UAM)/advanced air mobility (AAM) infrastructure, eVTOLs, drones, related services, and regulatory frameworks to support clients across diverse market intelligence requirements. The key aspects of our research on aircraft/drones are presented in the following figure: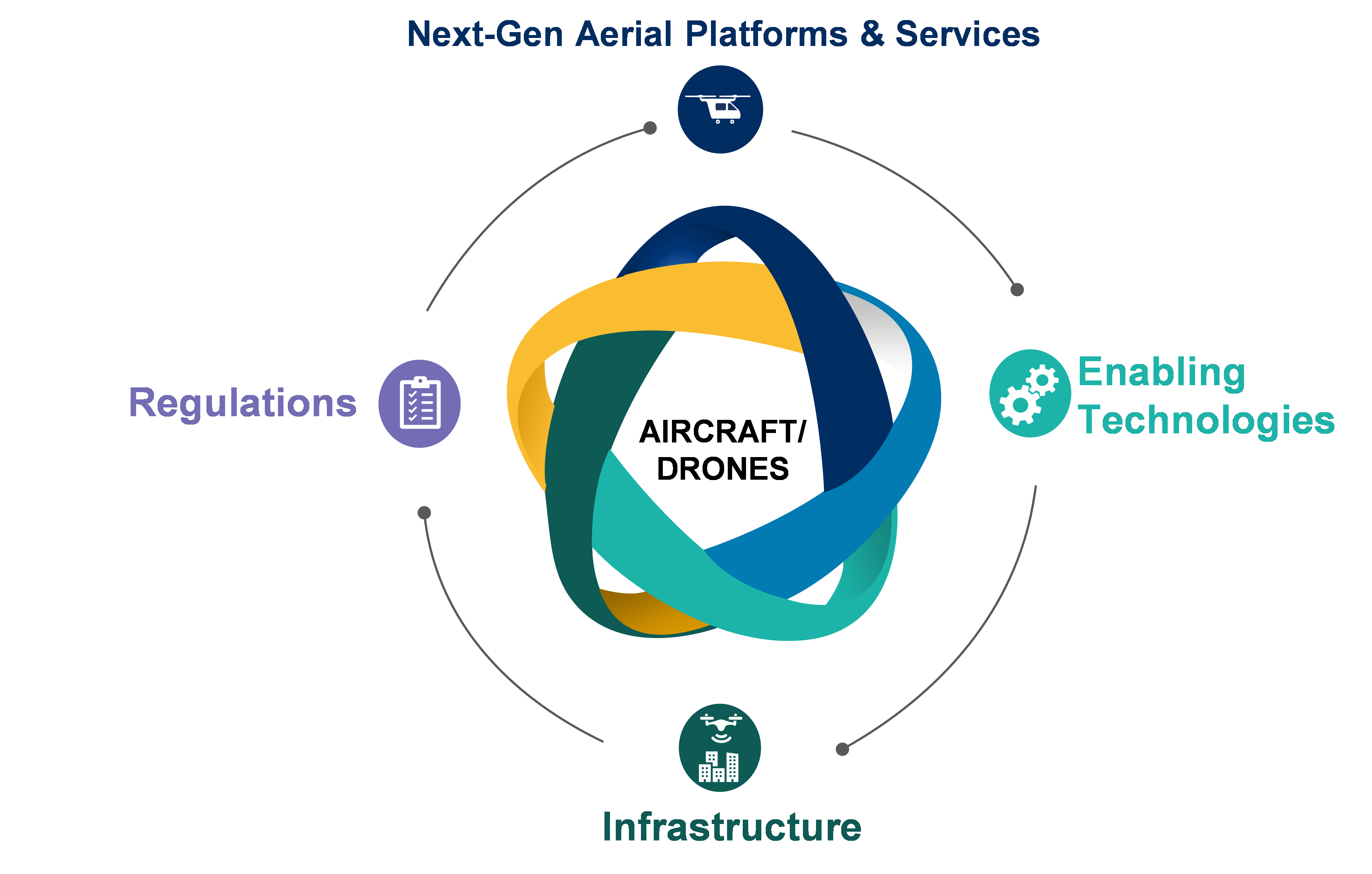 Next-Gen Aerial Platforms and Services – The increase in the development of eVTOLs and drones for beyond visual line of sight (BVLOS) operations has created a paradigm shift with respect to passenger and cargo transportation services. Technological advancement and the entry of multiple aircraft/drone platform manufacturers are paving the way for various growth opportunities across the defense and commercial sectors. Several key participants operating in this ecosystem have been developing eVTOL platforms for passenger transportation services and providing their solutions for defense and security applications such as intelligence, surveillance, and reconnaissance (ISR), personnel transportation, and disaster management. Utilizing eVTOLs and drones for commercial and defense applications will contribute to the sustainable aerospace industry.
Another major service area is the transportation of cargo and parcel deliveries (e-commerce) utilizing eVTOLs and drones. The drone and eVTOL manufacturers are integrating technologies that will enable BVLOS operations to operate in a highly automated format. BIS Research is looking into the evolution of the market and also investigating the industry participants evolving their own eVTOL/drone capability to support similar low-altitude air-logistics operations connecting multiple organizations with their customers.
The aircraft/drone market participants include service providers and platform developers currently developing their capabilities for the new versions of air transportation services they are targeting. Aviation regulators also seek to evolve suitable regulatory frameworks for these new air transportation services. Companies in countries such as the U.S., Canada, Japan, China, Germany, France, Russia, and the U.K. are heavily investing in developing and enhancing their next-gen aerial platform capabilities. These companies also partner with infrastructure developers to build supporting infrastructure such as vertiports.
BIS Research is monitoring the market and estimating key opportunity areas to support the aircraft/drone manufacturers, as well as investigating the market to support the emerging service providers with relevant market intelligence that can enable financial and strategic decision-making.
Enabling Technologies – Technologies such as electric propulsion, geo-fencing, data analytics, sensors, remote identification, and artificial intelligence (AI) are expected to drive the aircraft and drone ecosystem. Additionally, the advent of 5G and 6G networks is expected to enable smooth communication between eVTOLs/drones and drone operators, thereby enabling remote control of the aircraft and real-time transmission of flight data. Apart from this, SatCom can also provide secured communication between eVTOLs/drones and control centers, tracking of the platforms, and real-time situational awareness. BIS Research is monitoring the advancement in such technologies to identify risk and opportunity areas to further quantify them and develop data models that enable non-aircraft/drone sector participants to identify opportunities within this emerging sector. This market intelligence will also enable the existing and emerging aircraft/drone market participants to identify potential suppliers and partners from the allied markets.
Infrastructure – The aircraft/drone sector is expected to utilize a specific range of low-altitude airspace, varying from region to region. Civil aviation regulators are working toward establishing dedicated airspace management procedures for aircraft/drone operations. Service providers in this ecosystem will have to install their airside (UTM) and land-side infrastructures, such as charging stations, and vertiports, as per guidelines and associated regulations. The aircraft/drone infrastructure landscape will involve multiple governments and private controlled installations. These installations will be relevant to the aircraft/drones and for integrating advanced technologies to enable operations in a highly automated format.
BIS Research is investigating the key technologies being developed and identifying existing enabling capabilities that could be an integral part of the future next-gen aircraft/drone landscape. This will enable market participants to identify opportunity areas, suppliers, and partners.
Regulations – Government regulations play a critical role in commercializing the aircraft/drone market. To operate next-gen platforms such as eVTOL aircraft and drones for commercial applications, the entire value chain must align with the regulatory frameworks emerging across regions globally. The regulatory framework for aircraft/drone and services that will operate them over urban/beyond urban environments are expected to evolve with ongoing and future efforts of multiple government agencies who are aiming to incubate this emerging next-gen aircraft/drone sector for a successful establishment of commercial scheduled operations that can further enable the growth of their respective economies. BIS Research is monitoring the efforts of agencies such as the Federal Aviation Administration (FAA) and European Union Aviation Safety Agency (EASA) to understand the regulatory frameworks evolving across the world. The insights gathered through this effort are utilized to validate the potential impact and probabilities of occurrence of multiple market influencing factors which subsequently feed into the unit and service revenue projections estimated in the data models.
BIS Research constantly engages industry experts across multiple conversations to validate the data models and associated predictions and insights. The aircraft/drone-related market intelligence provided to market participants will showcase the potential opportunities within this market and enable them in their strategic decision-making. Additionally, BIS Research is evolving its syndicated research effort to identify key emerging markets within the UAM/AAM sector to enable the industry to get a data-driven view of the same well before they begin commercial scheduled operations.
Our customer base expands across several sections, including small enterprises, medium-scale operations, Fortune 50 companies, government organizations, venture capitalists, and deemed universities.


The aircraft/drones industry is expected to grow significantly in the upcoming years, owing to the continuous developments in the aircraft/drones sector and immense investments. BIS Research is keeping a close watch on the latest aircraft/drones industry developments.
If you do not find a report of your choice in the abovementioned list, please contact us so that we can look at customizing one for you.