Advanced Materials, Chemicals & Fuels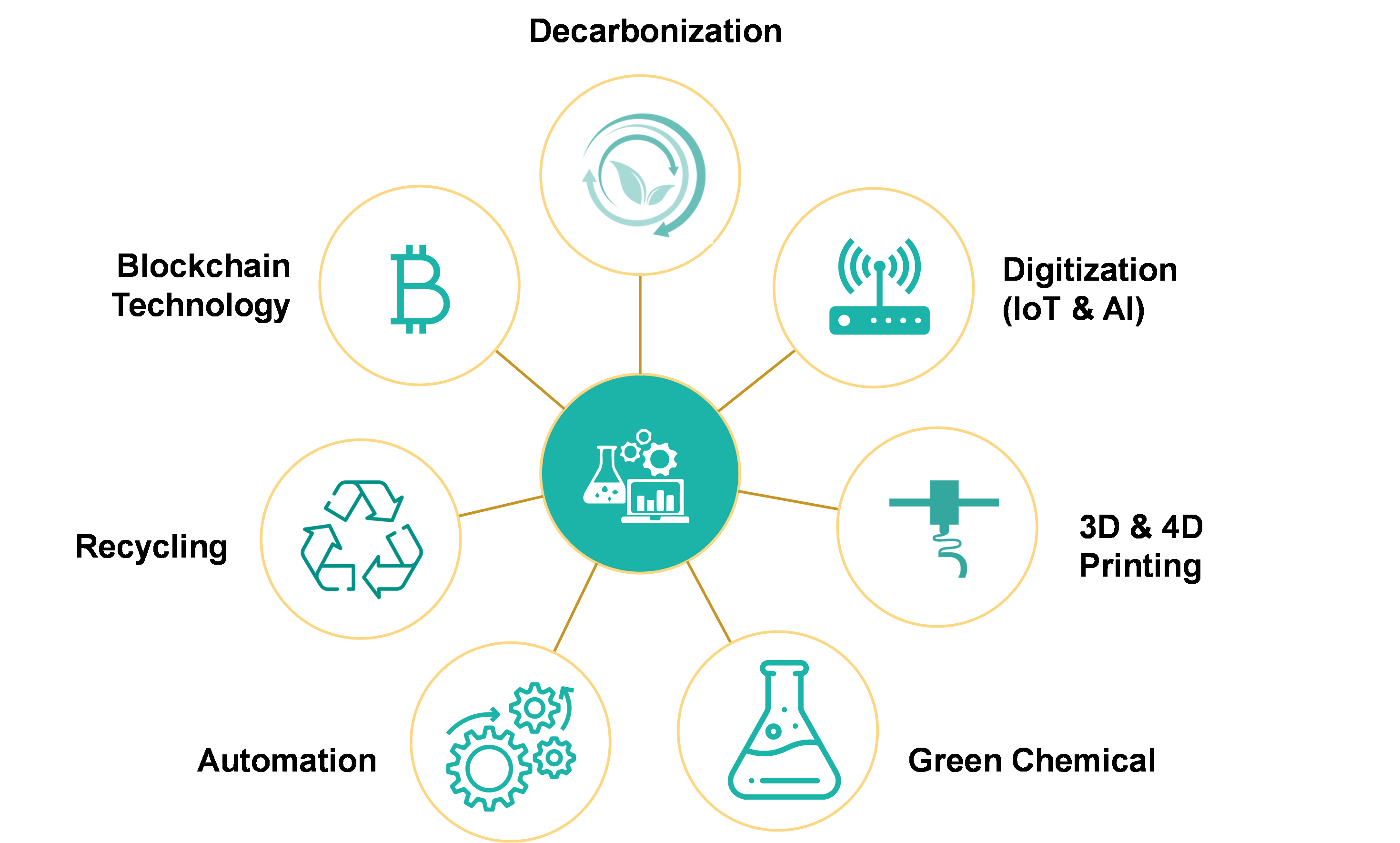 BIS Research explores the overall advanced materials and chemicals industry by segregating it into four main groups. These are as shown in the following figure: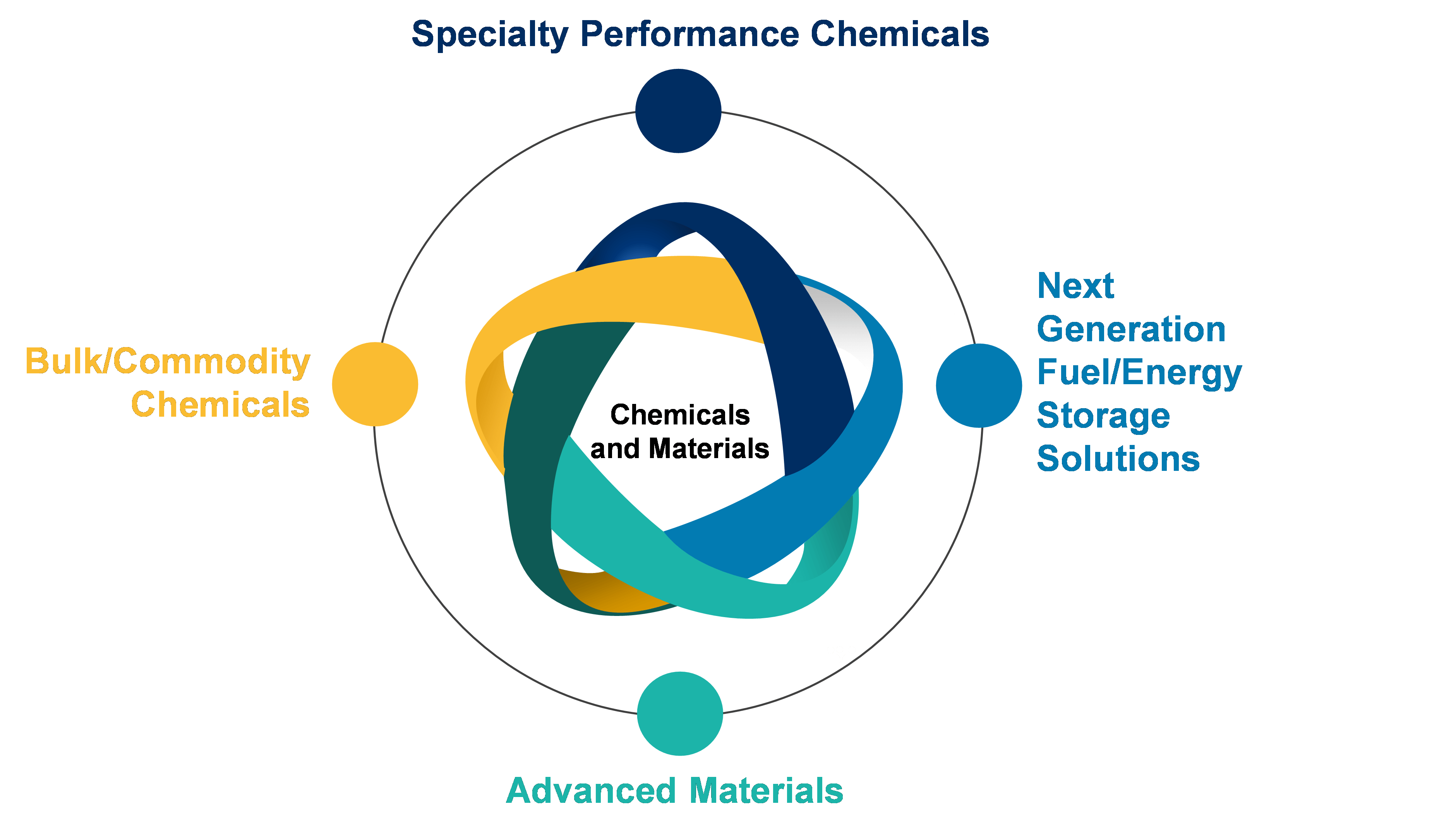 Under these groups, BIS Research further segregates the industry into eight main verticals, which are listed as follows:
AMC Verticals:
Advanced Electronics Materials: BIS Research tracks and provides intelligence reports on new technologies/solutions adopted to offer game-changing products and services in the electronic materials market. Our reports cover the latest developments in the science and technology of electronic materials such as crystalline semiconductors, ceramics, and polymers converted into substrates, metalized film conductors, etc.
Advanced Fibers and Composites: BIS Research studies and provides market intelligence reports on advanced composite materials and high-performance fibers and resins used in these composites. In these reports, BIS Research caters to the emerging applications and adoption of these composites in various end-use industries such as aviation, automotive, and building and construction. These materials are widely adopted and used in these end-use industries as they are advanced and lightweight functional materials. These materials are capable of meeting the high-performance requirement under extreme conditions in these end-use industries.
Air, Water, and Solid Waste Treatment: The alarmingly increasing air, water, and land pollution, and the rising demand for waste management, have led governments and industries to focus on making waste management one of their top priorities. Over the years, many companies entered the market with innovative solutions for air, water, and solid waste management, owing to which there have been some truly disruptive innovations in the air, water, and solid waste management market. BIS Research is focused on conducting several studies to track the adoption of advanced materials and technologies developed and used for air, water, and waste treatment.
Construction Materials: BIS Research offers detailed insights on sustainable and advanced materials being developed for the construction industry worldwide, along with the demand and supply market analysis.
Coatings, Adhesives, Sealants, and Elastomers: BIS Research provides a detailed analysis of the coatings, adhesives, sealants, and elastomers market. It also tracks technological advancement of the market along with analysis of emerging products and applications being used in various end-use industries.
High-Performance Plastics: BIS Research offers in-depth research on the development and advancement of high-performance plastics used for end-use industries, such as automotive, consumer goods industry, construction, medical devices, and electronics and electrical materials, as an alternative to traditional materials.
Next-Generation Fuel/Energy Storage Solutions: BIS Research studies and analyzes the next-generation fuels and energy solutions. Nascent technologies, such as bio-isobutane, coal tar, power-to-gas, and liquid hydrogen, are extensively explored by the organization.
3D Printing: BIS Research studies offer detailed insights on 3D printing and additive manufacturing technologies, materials, and applications for several end-use industries. The organization also tracks the technological advancements occurring in the 3D printing market along with the raw materials that are being used for the 3D printing process.
Hundreds of businesses in this industry have trusted BIS Research's reports to make important decisions and grow in the market. From a regional perspective, we are witnessing the early adoption of deep technologies in the advanced materials and chemicals market countries such as the U.S., Germany, the Netherlands, Japan, Canada, Switzerland, the U.K., France, South Korea, and many more.
Our customer base expands across several sections, including small enterprises, medium-scale operations, Fortune 50 companies, as well as government organizations, venture capitalists, and deemed universities.
The future of the advanced materials and chemicals industry is expected to be entirely technology-based, with autonomy and automation improving the efficiency of various farm-related activities. BIS Research is keeping a close watch on the latest advanced materials and chemicals market developments. In case you do not find a report of your choice in the previous list, please feel free to contact us for customizing a report for you.
Testimonial
I would like to extend our appreciation for your support in finalizing the report according to our precise needs and prerequisites. I am also impressed by the timely completion of all aspects of dealing with us as your esteemed client. I look forward to continue our professional relations in the future.
Manager-Strategy & Business Development
ICL Industrial Products
"I found the content quite interesting and insightful. It has provided us with some important information"
Strategic Insights COE Manager
Japan Tobacco International
I appreciate the extra effort that team BIS took to cater to our specific requirements, moreover, their response time and adaptability is at par with my expectation.
CEO & Chairman
TEKNA Plasma Systems
"BIS research has been a great support to our strategic investigation in the field of thermoplastic composite. BIS did manage to bring together a clear picture on a global level, supported by examples and references and they delivered an accurate evaluation of the current market size and potential in the coming years in line with our expectations. I warmly recommend them."
VP
Future Business and Innovation
Trusted by the world's largest business