Agriculture
The agriculture industry, across its value chain, is witnessing a transformation by adopting new and emerging farm technologies. This is helping organizations in countering several market challenges such as non-availability of manpower, water scarcity, aversion to chemicals, etc.
Agriculture industries have understood the importance of integrating new technologies such as robotics, artificial intelligence, IoT, and big data into their operations.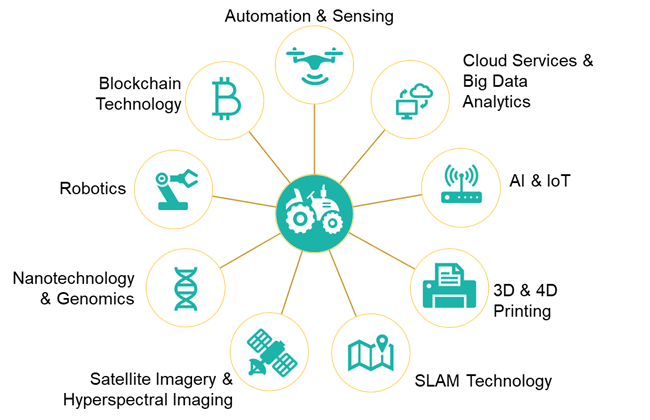 BIS Research explores the overall agriculture industry by segregating it into four main segments. These are as shown in the figure below: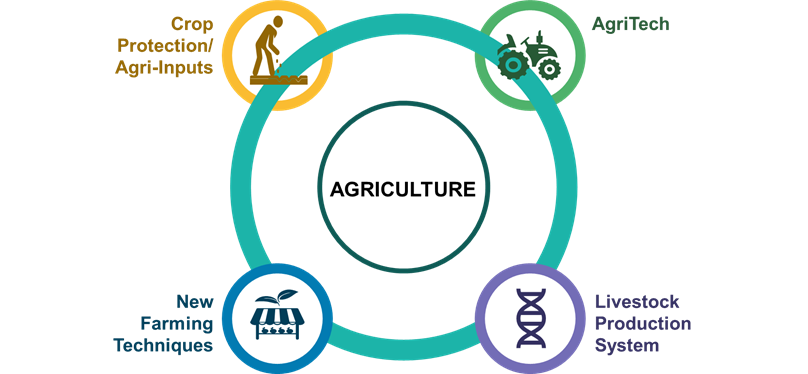 AgriTech - Advancement in agriculture technologies is expected to create a digitally connected farm by combining all the agronomic applications such as fertilization, planting, farm management, harvesting, yield forecasting, and irrigation. BIS Research focuses on providing market intelligence and key insights on such mechanization and automation technologies impacting the agriculture industry.
Crop Protection/Agri-Inputs – Innovations in the form of fertilizers, plant protection products, cleaning agents, and additives used in food production have been constantly evolving the overall farming sector. BIS Research is uniquely positioned to provide market intelligence solutions and research reports on emerging solutions in the agri-inputs business
New Farming Techniques – With food security gaining increased importance, governments across the world are promoting the adoption of modern farming techniques and equipment to enhance yield from each farmed acre. BIS Research understands the changing dynamics of the urban farming sector and continuously keeps track of the latest advancements
Livestock Production System – livestock producers across the globe are embracing efficient livestock monitoring & management systems, and techniques of genetic engineering to narrow the demand and supply gap. BIS Research regularly tracks the latest advancements in livestock production systems.
Hundreds of businesses from this industry have trusted BIS Research's insight reports to make those important decisions and grow in the market. From a geographical perspective, we are witnessing early adoption of deep technologies in the agriculture market in the following countries: USA, Germany, Netherlands, Japan, Canada, Switzerland, UK, France, South Korea amongst many more.
Our customer base expands across several sections including small enterprises, medium-scale operations, Fortune 50 companies, as well as government organizations, venture capitalists and deemed universities.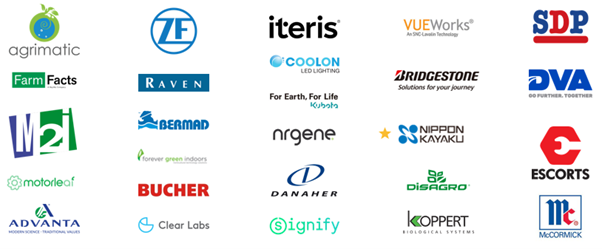 The future of the agriculture industry is expected to be entirely technology-based, with autonomy and automation improving the efficiency of various farm-related activities. BIS Research is keeping a close watch on the latest agriculture market developments. In case you do not find a report of your choice in the list above, please feel free to contact us so that we can look at customizing one for you.
Testimonial
I would like to extend our appreciation for your support in finalizing the report according to our precise needs and prerequisites. I am also impressed by the timely completion of all aspects of dealing with us as your esteemed client. I look forward to continue our professional relations in the future.
Manager-Strategy & Business Development
ICL Industrial Products
"I found the content quite interesting and insightful. It has provided us with some important information"
Strategic Insights COE Manager
Japan Tobacco International
I appreciate the extra effort that team BIS took to cater to our specific requirements, moreover, their response time and adaptability is at par with my expectation.
CEO & Chairman
TEKNA Plasma Systems
"BIS research has been a great support to our strategic investigation in the field of thermoplastic composite. BIS did manage to bring together a clear picture on a global level, supported by examples and references and they delivered an accurate evaluation of the current market size and potential in the coming years in line with our expectations. I warmly recommend them."
VP
Future Business and Innovation