SpaceTech
The global space economy has been rapidly growing owing to the increasing requirement for satellite-based services across different applications such as communication, navigation, and Earth observation and rising activities in the launch industry. BIS Research covers a wide variety of space industry segments ranging from satellite and launch vehicle manufacturing (including subsystem and component), orbital and sub-orbital launch, downstream/upstream service, deep space exploration, and military space. The key aspects of our research on SpaceTech are as follows: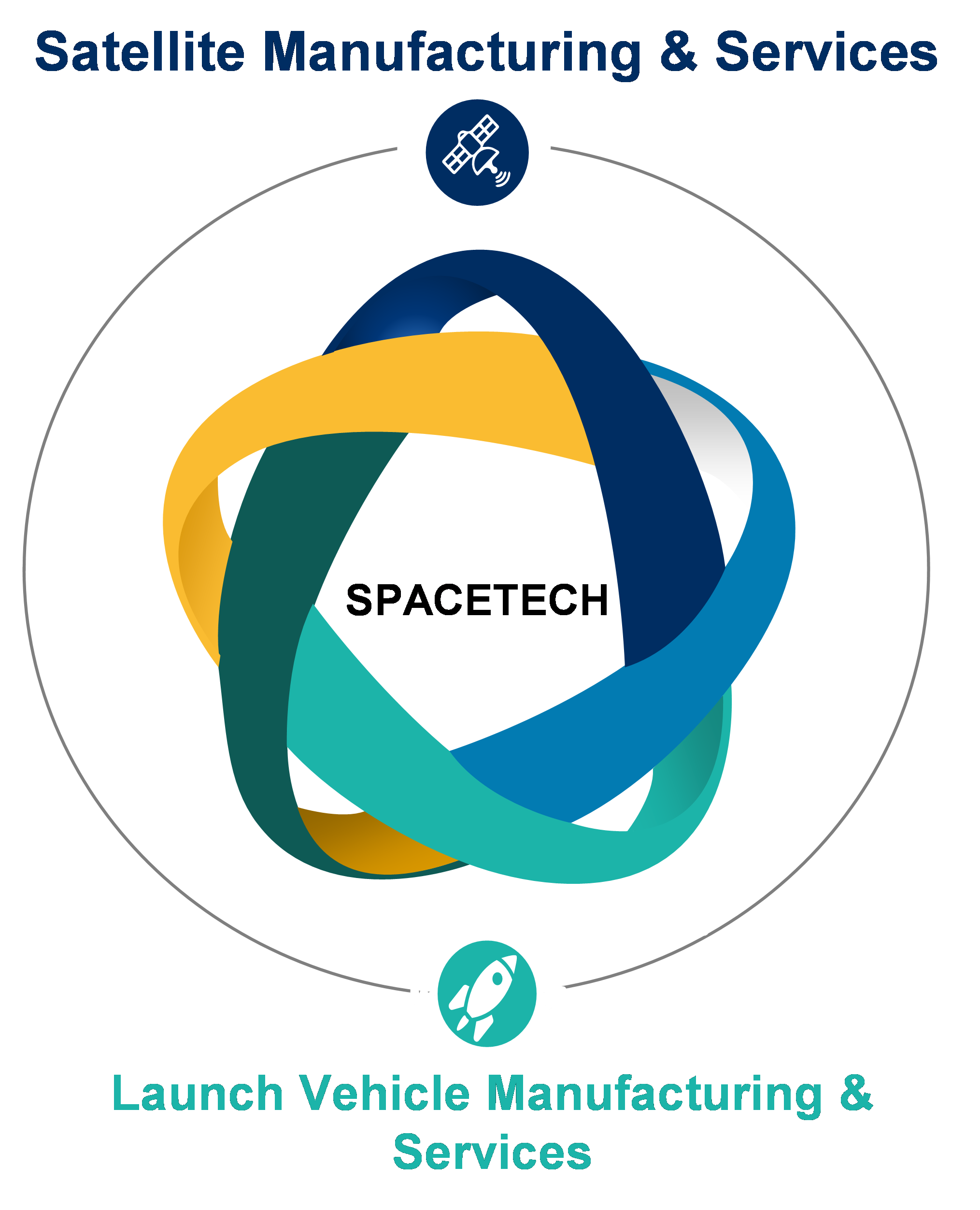 Satellite Manufacturing & Services – The space industry has witnessed tremendous change in the past few years, with market participants increasing their satellite (and related subsystems) manufacturing capacities to cater to the increasing demand for satellite-based downstream services. At BIS Research, several key areas within this industry, such as satellite and related subsystems manufacturing, are covered. Besides this, the downstream services across communication, Earth observation, and navigation are also covered in relevant segments. Additionally, we have built a satellite manufacturing market model (satellite database) that covers all major subsystems and components. This model has been built over the satellite launch forecast, which gets updated quarterly.
BIS Research is investigating various aspects of the satellite manufacturing and services market to provide relevant market intelligence that can enable financial and strategic decision-making.
Launch Vehicle Manufacturing & Services – The rise in satellite activities have also propelled the launch industry to develop and provide dedicated launch services. At BIS Research, we have covered several areas, such as small launch vehicles, medium and heavy-lift launch vehicles, and space propulsion and related solution providers. We have built a launch vehicle manufacturing market model (launch vehicle database) covering all launch vehicles (operational and under-development), their major subsystems, and components. This database serves as the supply forecast for the launch services market. As for the services segment, we have built it over the satellite launch forecast, which is updated every quarter.
BIS Research's SpaceTech domain covers all markets in the space industry, building multiple reconfigurable market models, which get updated on a regular basis, thereby resulting in the availability of the latest data every quarter. We continuously monitor the markets covered and have a dedicated focus on emerging markets as well as NewSpace participants, which not only helps our clients understand the existing market but also helps them gauge the demand in future markets. We ensure that potential impact and probability of occurrence are equally captured, so our market insights help our clients with robust financial decision-making.
Our customer base expands across several sections, including small enterprises, medium-scale operations, Fortune 50 companies, government organizations, venture capitalists, and deemed universities.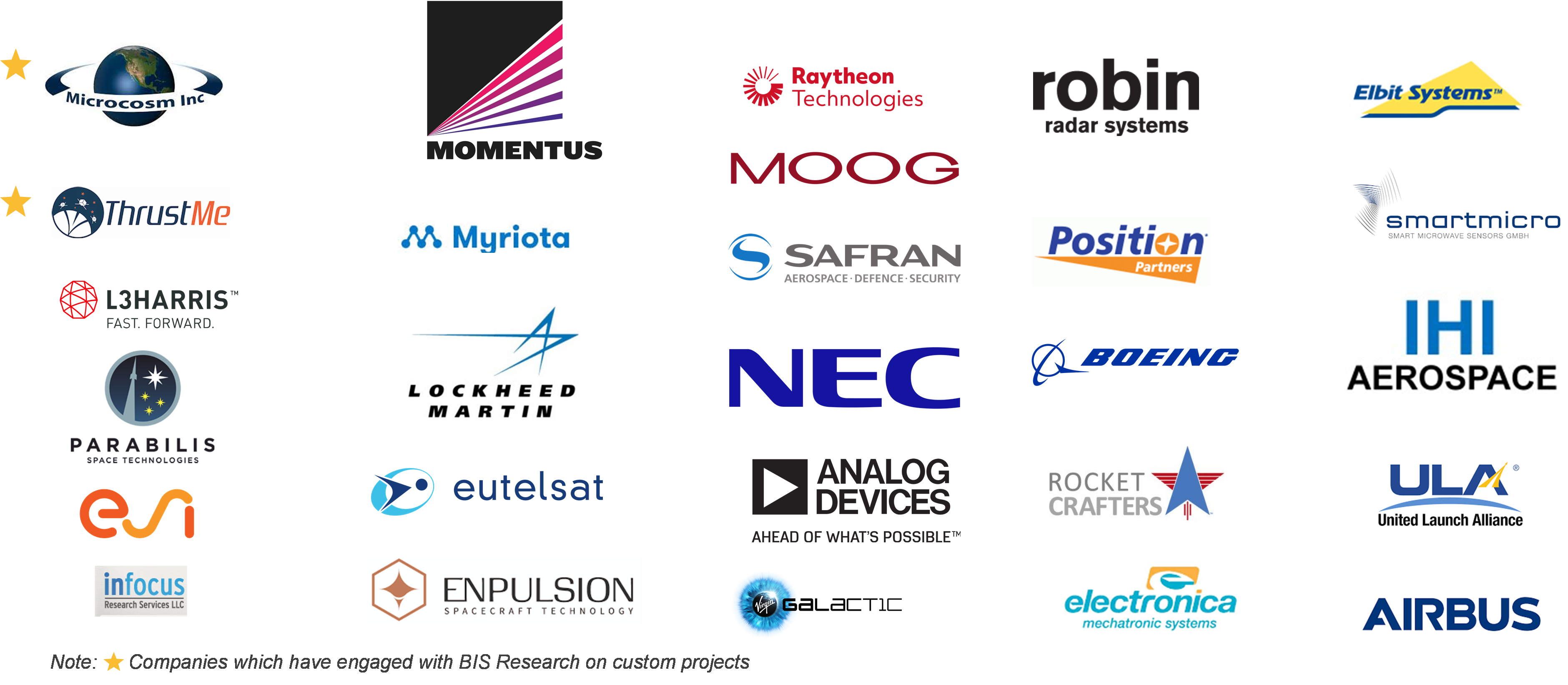 The space industry is expected to grow significantly in the upcoming years, owing to the continuous development within the space sector. BIS Research is continuously monitoring ongoing and latest space industry developments. If you do not find a report of your choice in the above-mentioned list, please feel free to contact us so that we can look at customizing one for you.
Testimonial
I would like to extend our appreciation for your support in finalizing the report according to our precise needs and prerequisites. I am also impressed by the timely completion of all aspects of dealing with us as your esteemed client. I look forward to continue our professional relations in the future.
Manager-Strategy & Business Development
ICL Industrial Products
"I found the content quite interesting and insightful. It has provided us with some important information"
Strategic Insights COE Manager
Japan Tobacco International
I appreciate the extra effort that team BIS took to cater to our specific requirements, moreover, their response time and adaptability is at par with my expectation.
CEO & Chairman
TEKNA Plasma Systems
"BIS research has been a great support to our strategic investigation in the field of thermoplastic composite. BIS did manage to bring together a clear picture on a global level, supported by examples and references and they delivered an accurate evaluation of the current market size and potential in the coming years in line with our expectations. I warmly recommend them."
VP
Future Business and Innovation