Market Research Report
A quick peek into the report
Table of Contents
1.1 Cause of Climate Change on Agriculture
1.1.1 Farm-Gate Emissions
1.1.1.1 Livestock
1.1.1.2 Crop Production
1.1.2 Forestry
1.1.3 Energy Use
1.2 Implementation of Climate Smart Agriculture (CSA)
2.1 Precision Agriculture
2.1.1 Expected Emission Reduction with Precision Agriculture Adoption
2.1.1.1 Patent Analysis
2.1.1.2 Key Technologies and Providers
2.1.1.3 Case Study
2.1.1.3.1 Climate Smart Agriculture Case Study by Government of India
2.1.1.3.2 Monarch Tractor Wente Vineyards Energy Case Study
2.1.1.3.3 Yield Monitoring and Digitization Case Study
2.1.2 Conservative Agriculture
2.1.2.1 Expected Emission Reduction with Conservative Agriculture Adoption
2.1.2.2 Patent Analysis
2.1.2.3 Key Technologies and Providers
2.1.2.4 Case Study
2.1.2.4.1 Soil Erosion Case Study
2.1.2.4.2 Sustainable Agriculture Land Management Case Study
2.1.3 Agroforestry
2.1.3.1 Expected Emission Reduction with AgroForestry Adoption
2.1.3.2 Patent Analysis
2.1.3.3 Key Technologies and Providers
2.1.3.4 Case Study
2.1.3.4.1 Climate Smart Forestry Case Study – Wageningen University & Research
2.1.4 Livestock Management
2.1.4.1 Expected Emission Reduction with Livestock Management Technologies Adoption
2.1.4.2 Patent Analysis
2.1.4.3 Key Technologies and Providers
2.1.4.4 Case Study
2.1.4.4.1 Mongolia Livestock Farming Case Study
2.1.4.4.2 Livestock Monitoring and Management Case Study
2.1.5 Renewable Energy
2.1.5.1 Expected Emission Reduction with Renewable Energy Technology Adoption
2.1.5.2 Patent Analysis
2.1.5.3 Key Technologies and Providers
2.1.5.4 Case Study
2.1.5.4.1 Solar Power-Based Microgrid Case Study
2.1.5.4.2 Solar Powered Farm Case Study
2.1.6 Water Management
2.1.6.1 Expected Emission Reduction with Water Management Technology Adoption
2.1.6.2 Patent Analysis
2.1.6.3 Key Technologies and Providers
2.1.6.4 Case Study
2.1.6.4.1 Reduction of Input Resources – Zerynth S.p.A. Case Study
2.1.6.4.2 Automated Water and Fertilizer Management Case Study
2.1.6.4.3 Yield Monitoring and Water Management Case Study
2.1.7 Climate Information Services
2.1.7.1 Expected Emission Reduction with Climate Information Services Adoption
2.1.7.2 Patent Analysis
2.1.7.3 Key Technologies and Providers
2.1.7.4 Case Study
2.1.7.4.1 Severe Weather Case Study
2.1.7.4.2 Mongolia Herd Management Climate Information Services Case Study
2.2 Key Government Initiatives and Impacts
2.3 Global Funding
2.3.1 Government Fundings
2.3.1.1 Government Fundings (Year-on-Year)
2.3.1.2 Government Funding (by Country)
2.3.1.3 Key Government Fundings Focusing Climate Smart Agriculture Practices
2.3.2 Private Funding
2.3.2.1 Funding Analysis (Year-on-Year)
2.3.2.2 Funding Analysis (by Technology)
2.3.2.3 Key Private Funding Focusing on Climate Smart Agriculture Practices
2.3.2.4 Key Investors in Climate Smart Agriculture Market, 2022
2.4 Key Challenges in CSA Adoption
2.4.1 High Upfront Costs
2.4.2 Lack of Infrastructure and Awareness of Climate Smart Agriculture Benefits
3.1 Recommendation for Policymakers
3.2 Recommendation For Technology Providers
3.3 Conclusion: Future Road Map
3.3.1 Expected Farm Consolidation
3.3.2 Government Support
3.3.3 Expected Demand for Climate Smart Agriculture Contract Services among Small Farms
3.3.4 Growing Millennial Populations in Agriculture
4.1 Data Sources
4.1.1 Primary Data Sources
4.1.2 Secondary Data Sources
Table 1: Tools to Track Carbon Emissions in Agriculture
Table 2: Key Technologies and Providers
Table 3: Key Precision Agriculture Companies
Table 4: Key Technologies and Providers
Table 5: Key Conservative Agriculture Solution Providers
Table 6: Key Technologies and Providers
Table 7: Key Agroforestry Technology Providers
Table 8: Key Technologies and Providers
Table 9: Key Livestock Management Providers
Table 10: Key Technologies and Providers
Table 11: Key Renewable Energy Solution Providers
Table 12: Key Technologies and Providers
Table 13: Key Water Management Solution Providers
Table 14: Key Technologies and Providers
Table 15: Key Climate Information Services Providers
Table 16: Key Government Initiatives/Programs
Table 17: Key Government Fundings Focusing Climate Smart Agriculture Practices
Table 18: Key Private Fundings Focusing on Climate Smart Agriculture Practices
Table 19: Key Active Investors in Climate Smart Agriculture Market, 2022
Table 20: Estimated Investment Costs and Service Contracts for Precision Agriculture Technologies
Figure 1: Three Objectives of Climate Smart Agriculture
Figure 2: Major Sectors of GHG Emissions in Agriculture
Figure 3: Climate Smart Agriculture Techniques
Figure 4: Factors Catalyzing the Growth of Climate Smart Agriculture Adoption
Figure 5: Global Greenhouse Gas Emissions on Agriculture
Figure 6: World Farm-Gate Emissions by Activity
Figure 7: Yearly Cattle Population (2018-2026)
Figure 8: Global Deforestation and Forest Growth Over 30 Years (1990-2020)
Figure 9: Steps for the Implementation of Climate Smart Agriculture
Figure 10: Expected Emission Reduction with Precision Agriculture Adoption
Figure 11: Precision Agriculture Technologies Emission Reduction Potential
Figure 12: Patents Filed or Granted for Precision Agriculture Technology (Global), January 2018-December 2022
Figure 13: Climate Smart Agriculture Case Study by Government of India
Figure 14: Monarch Tractor Wente Vineyards Energy Case Study
Figure 15: Yield Monitoring and Digitization Case Study
Figure 16: Expected Emission Reduction with Conservative Agriculture Adoption
Figure 17: Conservative Agriculture Technologies Emission Reduction Potential
Figure 18: Patents Filed or Granted for Conservative Agriculture (Global), January 2018-December 2022
Figure 19: Soil Erosion Case Study
Figure 20: Sustainable Agriculture Land Management Case Study
Figure 21: Expected Emission Reduction with AgroForestry Adoption
Figure 22: Agroforestry Technologies Emission Reduction Potential
Figure 23: Patents Filed or Granted for Agroforestry (Global), January 2018-December 2022
Figure 24: Climate Smart Forestry Case Study – Wageningen University & Research
Figure 25: Expected Emission Reduction with Livestock Management Technologies Adoption
Figure 26: Livestock Management Technologies Emission Reduction Potential
Figure 27: Patents Filed or Granted for Livestock Management (Global), January 2018-December 2022
Figure 28: Mongolia Livestock Farming Case Study
Figure 29: Livestock Monitoring and Management Case Study
Figure 30: Expected Emission Reduction with Renewable Energy Technology Adoption
Figure 31: Renewable Energy Technologies Emission Reduction Potential
Figure 32: Patents Filed or Granted for Renewable Energy (Global), January 2018-December 2022
Figure 33: Solar Power-Based Microgrid Case Study
Figure 34: Solar Powered Farm Case Study
Figure 35: Expected Emission Reduction with Water Management Technology Adoption
Figure 36: Water Management Technologies Emission Reduction Potential
Figure 37: Patents Filed or Granted for Water Management (Global), January 2018-December 2022
Figure 38: Reduction of Input Resources – Zerynth S.p.A. Case Study
Figure 39: Automated Water and Fertilizer Management Case Study
Figure 40: Yield Monitoring and Water Management Case Study
Figure 41: Patents Filed or Granted for Climate Information Services (Global), January 2018-December 2022
Figure 42: Severe Weather Case Study
Figure 43: Mongolia Herd Management Climate Information Services Case Study
Figure 44: Government Funding (by Year-on-Year), January 2021-June 2023
Figure 45: Funding Analysis, January 2021- June 2023
Figure 46: Funding Analysis, January 2020 - June 2023
Figure 47: Funding Analysis (by Technology), 2020-2022
Figure 48: Building Blocks for CSA Policy Implementation at Country Level
Figure 49: Global Climate Smart Agriculture Market: Focus on Technologies Mitigating GHG Emissions: Research Methodology
Market Report Coverage
Climate Smart Agriculture Market: Focus on Technologies Mitigating GHG Emissions

Number of Tables

20

Number of Figures

49

Number of Pages

93
How Can This Report Add Value to an Organization?
Primary Research
The primary sources involve the climate smart agriculture industry experts and stakeholders such as data suppliers, platform developers, and service providers. Respondents such as vice presidents, CEOs, marketing directors, and technology and innovation directors have been interviewed to verify this research study's qualitative and quantitative aspects.
The key data points taken from primary sources include:
• understanding the competitive landscape
• validation of the numbers of various markets for market type
Secondary Research
This research study involves the usage of extensive secondary research, directories, company websites, and annual reports. It also makes use of databases, such as Hoovers, Bloomberg, Businessweek, and Factiva, to collect useful and effective information for an extensive, technical, market-oriented, and commercial study of the global market. In addition to the aforementioned data sources, the study has been undertaken with the help of other data sources and websites, such as www.fao.org and www.worldbank.org.
Secondary research was done to obtain crucial information about the industry's value chain, revenue models, the market's monetary chain, the total pool of key players, and the current and potential use cases and applications.
Industry and Technology Overview
Introduction of Climate Smart Agriculture Market: Focus on Technologies Mitigating GHG Emissions
The intricate relationships between climate change, food security, and agricultural practices underscore the need for collaborative endeavors among farmers, policymakers, and researchers to tackle this multifaceted challenge. These stakeholders are actively deploying strategies that concurrently mitigate emissions, enhance climate resilience and adaptation, and improve agricultural productivity. The adoption of climate smart agriculture (CSA) practices has emerged as a comprehensive approach to effectively pursue these interconnected objectives, taking into account the synergies and trade-offs inherent in the process.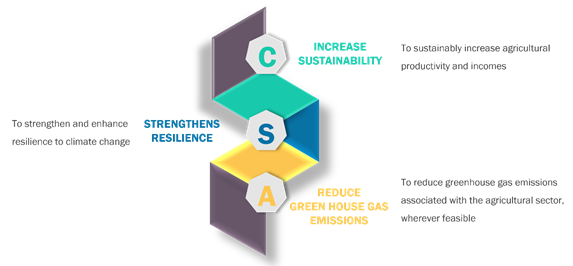 Market Introduction
As defined by the United Nations Food and Agriculture Organization (FAO), climate smart agriculture (CSA) is an agricultural framework that offers guidance to farmers in adopting environmentally sustainable and climate resilient practices. This approach goes beyond traditional farming methods and takes an integrated approach to landscape management, including cropland, livestock, forests, and fisheries. It aims to effectively address the interconnected issues of food security and climate change. The applicability of CSA extends to countries across both the Global South and Global North, although regional contexts may result in variations in specific challenges and the prioritization of objectives.
Market Challenges: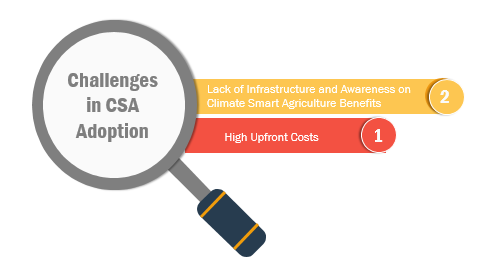 The implementation of climate smart agriculture practices can pose financial challenges for farmers, as it often involves significant upfront costs associated with acquiring new technologies and infrastructure. Furthermore, the adoption of precision farming techniques requires investments in specialized equipment and training. However, despite these initial financial barriers, it is crucial to provide support for the adoption of climate smart agriculture practices due to their long-term advantages, such as enhanced crop yields and improved environmental sustainability.
Farmers who possess limited practical knowledge about climate smart agriculture (CSA) and are primarily motivated by economic incentives may exhibit reluctance toward adopting CSA practices. This resistance to change or aversion to risk can hinder their willingness to embrace CSA. The lack of practical understanding refers to limited awareness among farmers regarding the environmental consequences associated with conventional agricultural practices and the potential advantages offered by CSA.
The limited connectivity in marginalized areas poses a significant challenge in terms of accessing real-time data, weather forecasts, and market information essential for the effective implementation of climate smart agriculture (CSA) techniques. Bridging the infrastructure gap becomes imperative to ensure equitable access to information and resources, thereby facilitating broader adoption of CSA practices in these underserved regions.
Analyst's Thoughts
According to Debraj Chakraborty, Principal Analyst, BIS Research, "To effectively reduce greenhouse gas emissions in agriculture, it is imperative to adopt a comprehensive approach that incorporates climate smart practices throughout the entire agricultural value chain. This entails implementing sustainable land management techniques, employing precision irrigation methods, and embracing the adoption of renewable energy sources. Each of these measures plays a pivotal role in fostering a more resilient and environmentally friendly agricultural system with a reduced carbon footprint."
Climate Smart Agriculture Market - Focus on Technologies Mitigating GHG Emissions
Some Faq's
Frequently Asked Questions
Climate smart agriculture (CSA) is a holistic and integrated approach to landscape management that seeks to address the interdependencies between food security and climate change. It involves the strategic amalgamation of diverse and sustainable practices tailored to the specific climate challenges faced by a particular farming community.
The key challenges in climate smart agriculture include limited awareness and understanding, lack of access to financing and resources, variability of climate change, inadequate supportive policies, socio-economic constraints, and high upfront costs.
The company should focus on technology integration, sustainable inputs/practices, climate resilient crop varieties, precision farming solutions, and offering comprehensive services that support farmers in adopting climate smart agriculture practices.
This report presents projected emission reductions following the implementation of climate smart agriculture (CSA) technologies, along with recommendations for policymakers and technology providers.
Agribusiness, government agencies, research institutes, non-government agencies, and other stakeholders can buy this report.