Market Research Report
A quick peek into the report
Table of Contents
1.1 Industry Outlook
1.1.1 Pricing Models
1.1.1.1 Bundled Per Acre
1.1.1.2 Per Pass/Service
1.1.1.3 Percentage of Yield Bump/Gain
1.1.2 Break-Even Analysis
1.1.2.1 Introduction
1.1.2.2 Components of Break-Even Analysis
1.1.2.3 Calculation of Break-Even Analysis
1.1.2.1 Case Studies
1.1.3 Advanced Solutions
1.1.3.1 Agriculture Robot-as-a-Service (ARaaS)
1.1.3.2 Agriculture Drone-as-a-Service (ADaaS)
1.1.4 Government Initiatives Landscape
1.1.4.1 North America
1.1.4.2 Europe
1.1.4.3 U.K.
1.1.4.4 Asia-Pacific and Japan
1.1.4.5 China
1.1.4.6 Rest-of-the-World
1.2 Business Dynamics
1.2.1 Business Drivers
1.2.1.1 Decreasing Agriculture Workforce
1.2.1.2 Increasing Area under Permanent Crops
1.2.1.3 Increased Yield
1.2.1.4 Low Capital Investment for Customers
1.2.1.4.1 More Suitable for Small-Scale Farmers
1.2.2 Business Challenges
1.2.2.1 Cyber and Online Data Security
1.2.2.2 Reluctance to Adopt and Lack of Technical Awareness among Farmers
1.2.2.3 Limited Infrastructure and Workforce to Provide EaaS Solutions
1.2.3 Business Strategies
1.2.3.1 Product Development
1.2.3.2 Market Development
1.2.4 Corporate Strategies
1.2.4.1 Mergers and Acquisitions
1.2.4.2 Partnerships, Collaborations, and Joint Ventures
1.2.4.3 Snapshot of Corporate Strategies Adopted by the Players in the Global Agriculture Technology as a Service Market
1.2.5 Business Opportunities
1.2.5.1 Companies Providing Bundled Solutions
1.2.5.2 Government Support and Environment-Friendly Nature
1.2.5.3 Increasing use of AI in Agriculture
1.3 COVID-19 Impact on ATaaS Market
2.1 Agriculture Technology-as-a-Service Market (by Application)
2.1.1 Yield Mapping and Monitoring
2.1.2 Soil Management and Testing
2.1.3 Crop Health Monitoring
2.1.4 Irrigation
2.1.5 Others
2.2 Demand Analysis of Global Agriculture Technology-as-a-Service Market (by Application)
3.1 Global Agriculture Technology-as-a-Service Market (by Product)
3.1.1 Global Agriculture Technology-as-a-Service Market (by Service Type)
3.1.1.1 Software-as-a-Service (SaaS)
3.1.1.2 Equipment-as-a-Service (EaaS)
3.1.2 Global Agriculture Technology-as-a-Service Market (by Pricing)
3.1.2.1 Pay-Per-Use
3.1.2.2 Subscription
3.2 Demand Analysis of Global Agriculture Technology-as-a-Service Market (by Product)
3.2.1 Demand Analysis of Global Agriculture Technology-as-a-Service Market (by Service Type)
3.2.2 Demand Analysis of Global Agriculture Technology-as-a-Service Market (by Pricing)
4.1 North America
4.1.1 Market
4.1.1.1 Key Providers in North America
4.1.1.2 Business Drivers
4.1.1.3 Business Challenges
4.1.2 Application
4.1.2.1 North America Agriculture Technology-as-a-Service Market (by Application), $Million, 2021-2027
4.1.3 Product
4.1.3.1 North America Agriculture Technology-as-a-Service Market (by Service Type), $Million, 2021-2027
4.1.3.2 North America Agriculture Technology-as-a-Service Market (by Pricing), $Million, 2021-2027
4.1.3.3 U.S.
4.1.3.3.1 Market
4.1.3.3.1.1 Buyer Attributes
4.1.3.3.1.2 Business Challenges
4.1.3.3.1.3 Business Drivers
4.1.3.4 Application
4.1.3.4.1 U.S. Agriculture Technology-as-a-Service Market (by Application), $Million, 2021-2027
4.1.3.5 Product
4.1.3.5.1 U.S. Agriculture Technology-as-a-Service Market (by Service Type), $Million, 2021-2027
4.1.3.5.2 U.S. Agriculture Technology-as-a-Service Market (by Pricing), $Million, 2021-2027
4.1.3.6 Canada
4.1.3.6.1 Market
4.1.3.6.1.1 Buyer Attributes
4.1.3.6.1.2 Business Challenges
4.1.3.6.1.3 Business Drivers
4.1.3.7 Application
4.1.3.7.1 Canada Agriculture Technology-as-a-Service Market (by Application), $Million, 2021-2027
4.1.3.8 Product
4.1.3.8.1 Canada Agriculture Technology-as-a-Service Market (by Service Type), $Million, 2021-2027
4.1.3.8.2 Canada Agriculture Technology-as-a-Service Market (by Pricing), $Million, 2021-2027
4.1.3.9 Mexico
4.1.3.9.1 Market
4.1.3.9.1.1 Buyer Attributes
4.1.3.9.1.2 Business Challenges
4.1.3.9.1.3 Business Drivers
4.1.3.10 Application
4.1.3.10.1 Mexico Agriculture Technology-as-a-Service Market (by Application), $Million, 2021-2027
4.1.3.11 Product
4.1.3.11.1 Mexico Agriculture Technology-as-a-Service Market (by Service Type), $Million, 2021-2027
4.1.3.11.2 Mexico Agriculture Technology-as-a-Service Market (by Pricing), $Million, 2021-2027
4.2 South America
4.2.1 Market
4.2.1.1 Key Providers in South America
4.2.1.2 Business Drivers
4.2.1.3 Business Challenges
4.2.2 Application
4.2.2.1 South America Agriculture Technology-as-a-Service Market (by Application), $Million, 2021-2027
4.2.3 Product
4.2.3.1 South America Agriculture Technology-as-a-Service Market (by Service Type), $Million, 2021-2027
4.2.3.2 South America Agriculture Technology-as-a-Service Market (by Pricing), $Million, 2021-2027
4.2.3.3 Brazil
4.2.3.3.1 Market
4.2.3.3.1.1 Buyer Attributes
4.2.3.3.1.2 Business Challenges
4.2.3.3.1.3 Business Drivers
4.2.3.4 Application
4.2.3.4.1 Brazil Agriculture Technology-as-a-Service Market (by Application), $Million, 2021-2027
4.2.3.5 Product
4.2.3.5.1 Brazil Agriculture Technology-as-a-Service Market (by Service Type), $Million, 2021-2027
4.2.3.5.2 Brazil Agriculture Technology-as-a-Service Market (by Pricing), $Million, 2021-2027
4.2.3.6 Argentina
4.2.3.6.1 Market
4.2.3.6.1.1 Buyer Attributes
4.2.3.6.1.2 Business Challenges
4.2.3.6.1.3 Business Drivers
4.2.3.7 Application
4.2.3.7.1 Argentina Agriculture Technology-as-a-Service Market (by Application), $Million, 2021-2027
4.2.3.8 Product
4.2.3.8.1 Argentina Agriculture Technology-as-a-Service Market (by Service Type), $Million, 2021-2027
4.2.3.8.2 Argentina Agriculture Technology-as-a-Service Market (by Pricing), $Million, 2021-2027
4.2.3.9 Rest-of-South America
4.2.3.9.1 Market
4.2.3.9.1.1 Buyer Attributes
4.2.3.9.1.2 Business Challenges
4.2.3.9.1.3 Business Drivers
4.2.3.10 Application
4.2.3.10.1 Rest-of-South America Agriculture Technology-as-a-Service Market (by Application), $Million, 2021-2027
4.2.3.11 Product
4.2.3.11.1 Rest-of-South America Agriculture Technology-as-a-Service Market (by Service Type), $Million, 2021-2027
4.2.3.11.2 Rest-of-South America Agriculture Technology-as-a-Service Market (by Pricing), $Million, 2021-2027
4.3 Europe
4.3.1 Market
4.3.1.1 Key Providers in Europe
4.3.1.2 Business Drivers
4.3.1.3 Business Challenges
4.3.2 Application
4.3.2.1 Europe Agriculture Technology-as-a-Service Market (by Application), $Million, 2021-2027
4.3.3 Product
4.3.3.1 Europe Agriculture Technology-as-a-Service Market (by Service Type), $Million, 2021-2027
4.3.3.2 Europe Agriculture Technology-as-a-Service Market (by Pricing), $Million, 2021-2027
4.3.3.3 Germany
4.3.3.3.1 Market
4.3.3.3.1.1 Buyer Attributes
4.3.3.3.1.2 Business Challenges
4.3.3.3.1.3 Business Drivers
4.3.3.4 Application
4.3.3.4.1 Germany Agriculture Technology-as-a-Service Market (by Application), $Million, 2021-2027
4.3.3.5 Product
4.3.3.5.1 Germany Agriculture Technology-as-a-Service Market (by Service Type), $Million, 2021-2027
4.3.3.5.2 Germany Agriculture Technology-as-a-Service Market (by Pricing), $Million, 2021-2027
4.3.3.6 France
4.3.3.6.1 Market
4.3.3.6.1.1 Buyer Attributes
4.3.3.6.1.2 Business Challenges
4.3.3.6.1.3 Business Drivers
4.3.3.7 Application
4.3.3.7.1 France Agriculture Technology-as-a-Service Market (by Application), $Million, 2021-2027
4.3.3.8 Product
4.3.3.8.1 France Agriculture Technology-as-a-Service Market (by Service Type), $Million, 2021-2027
4.3.3.8.2 France Agriculture Technology-as-a-Service Market (by Pricing), $Million, 2021-2027
4.3.3.9 Ukraine
4.3.3.9.1 Market
4.3.3.9.1.1 Buyer Attributes
4.3.3.9.1.2 Business Challenges
4.3.3.9.1.3 Business Drivers
4.3.3.10 Application
4.3.3.10.1 Ukraine Agriculture Technology-as-a-Service Market (by Application), $Million, 2021-2027
4.3.3.11 Product
4.3.3.11.1 Ukraine Agriculture Technology-as-a-Service Market (by Service Type), $Million, 2021-2027
4.3.3.11.2 Ukraine Agriculture Technology-as-a-Service Market (by Pricing), $Million, 2021-2027
4.3.3.12 Greece
4.3.3.12.1 Market
4.3.3.12.1.1 Buyer Attributes
4.3.3.12.1.2 Business Challenges
4.3.3.12.1.3 Business Drivers
4.3.3.13 Application
4.3.3.13.1 Greece Agriculture Technology-as-a-Service Market (by Application), $Million, 2021-2027
4.3.3.14 Product
4.3.3.14.1 Greece Agriculture Technology-as-a-Service Market (by Service Type), $Million, 2021-2027
4.3.3.14.2 Greece Agriculture Technology-as-a-Service Market (by Pricing), $Million, 2021-2027
4.3.3.15 The Netherlands
4.3.3.15.1 Market
4.3.3.15.1.1 Buyer Attributes
4.3.3.15.1.2 Business Challenges
4.3.3.15.1.3 Business Drivers
4.3.3.16 Application
4.3.3.16.1 The Netherlands Agriculture Technology-as-a-Service Market (by Application), $Million, 2021-2027
4.3.3.17 Product
4.3.3.17.1 The Netherlands Agriculture Technology-as-a-Service Market (by Service Type), $Million, 2021-2027
4.3.3.17.2 The Netherlands Agriculture Technology-as-a-Service Market (by Pricing), $Million, 2021-2027
4.3.3.18 Belgium
4.3.3.18.1 Market
4.3.3.18.1.1 Buyer Attributes
4.3.3.18.1.2 Business Challenges
4.3.3.18.1.3 Business Drivers
4.3.3.19 Application
4.3.3.19.1 Belgium Agriculture Technology-as-a-Service Market (by Application), $Million, 2021-2027
4.3.3.20 Product
4.3.3.20.1 Belgium Agriculture Technology-as-a-Service Market (by Service Type), $Million, 2021-2027
4.3.3.20.2 Belgium Agriculture Technology-as-a-Service Market (by Pricing), $Million, 2021-2027
4.3.3.21 Switzerland
4.3.3.21.1 Market
4.3.3.21.1.1 Buyer Attributes
4.3.3.21.1.2 Business Challenges
4.3.3.21.1.3 Business Drivers
4.3.3.22 Application
4.3.3.22.1 Switzerland Agriculture Technology-as-a-Service Market (by Application), $Million, 2021-2027
4.3.3.23 Product
4.3.3.23.1 Switzerland Agriculture Technology-as-a-Service Market (by Service Type), $Million, 2021-2027
4.3.3.23.2 Switzerland Agriculture Technology-as-a-Service Market (by Pricing), $Million, 2021-2027
4.3.3.24 Turkey
4.3.3.24.1 Market
4.3.3.24.1.1 Buyer Attributes
4.3.3.24.1.2 Business Challenges
4.3.3.24.1.3 Business Drivers
4.3.3.25 Application
4.3.3.25.1 Turkey Agriculture Technology-as-a-Service Market (by Application), $Million, 2021-2027
4.3.3.26 Product
4.3.3.26.1 Turkey Agriculture Technology-as-a-Service Market (by Service Type), $Million, 2021-2027
4.3.3.26.2 Turkey Agriculture Technology-as-a-Service Market (by Pricing), $Million, 2021-2027
4.3.3.27 Rest-of-Europe
4.3.3.27.1 Market
4.3.3.27.1.1 Buyer Attributes
4.3.3.27.1.2 Business Challenges
4.3.3.27.1.3 Business Drivers
4.3.3.28 Application
4.3.3.28.1 Rest-of-Europe Agriculture Technology-as-a-Service Market (by Application), $Million, 2021-2027
4.3.3.29 Product
4.3.3.29.1 Rest-of-Europe Agriculture Technology-as-a-Service Market (by Service Type), $Million, 2021-2027
4.3.3.29.2 Rest-of-Europe Agriculture Technology-as-a-Service Market (by Pricing), $Million, 2021-2027
4.4 U.K.
4.4.1 Markets
4.4.1.1 Buyer Attributes
4.4.1.2 Key Providers in the U.K.
4.4.1.3 Business Challenges
4.4.1.4 Business Drivers
4.4.2 Application
4.4.2.1 U.K. Agriculture Technology-as-a-Service Market (by Application), $Million, 2021-2027
4.4.3 Product
4.4.3.1 U.K. Agriculture Technology-as-a-Service Market (by Service Type), $Million, 2021-2027
4.4.3.2 U.K. Agriculture Technology-as-a-Service Market (by Pricing), $Million, 2021-2027
4.5 Middle East and Africa
4.5.1 Market
4.5.1.1 Key Providers in the Middle East and Africa
4.5.1.2 Business Drivers
4.5.1.3 Business Challenges
4.5.2 Application
4.5.2.1 Middle East and Africa Agriculture Technology-as-a-Service Market (by Application), $Million, 2021-2027
4.5.3 Product
4.5.3.1 Middle East and Africa Agriculture Technology-as-a-Service Market (by Service Type), $Million, 2021-2027
4.5.3.2 Middle East and Africa Agriculture Technology-as-a-Service Market (by Pricing), $Million, 2021-2027
4.5.3.3 South Africa
4.5.3.3.1 Market
4.5.3.3.1.1 Buyer Attributes
4.5.3.3.1.2 Business Challenges
4.5.3.3.1.3 Business Drivers
4.5.3.4 Application
4.5.3.4.1 South Africa Agriculture Technology-as-a-Service Market (by Application), $Million, 2021-2027
4.5.3.5 Product
4.5.3.5.1 South Africa Agriculture Technology-as-a-Service Market (by Service Type), $Million, 2021-2027
4.5.3.5.2 South Africa Agriculture Technology-as-a-Service Market (by Pricing), $Million, 2021-2027
4.5.3.6 Israel
4.5.3.6.1 Market
4.5.3.6.1.1 Buyer Attributes
4.5.3.6.1.2 Business Challenges
4.5.3.6.1.3 Business Drivers
4.5.3.7 Application
4.5.3.7.1 Israel Agriculture Technology-as-a-Service Market (by Application), $Million, 2021-2027
4.5.3.8 Product
4.5.3.8.1 Israel Agriculture Technology-as-a-Service Market (by Service Type), $Million, 2021-2027
4.5.3.8.2 Israel Agriculture Technology-as-a-Service Market (by Pricing), $Million, 2021-2027
4.5.3.9 Rest-of-Middle East and Africa
4.5.3.9.1 Market
4.5.3.9.1.1 Buyer Attributes
4.5.3.9.1.2 Business Challenges
4.5.3.9.1.3 Business Drivers
4.5.3.10 Application
4.5.3.10.1 Rest-of-MEA Agriculture Technology-as-a-Service Market (by Application), $Million, 2021-2027
4.5.3.11 Product
4.5.3.11.1 Rest-of-MEA Agriculture Technology-as-a-Service Market (by Service Type), $Million, 2021-2027
4.5.3.11.2 Rest-of-MEA Agriculture Technology-as-a-Service Market (by Pricing), $Million, 2021-2027
4.6 China
4.6.1 Markets
4.6.1.1 Buyer Attributes
4.6.1.2 Key Providers in China
4.6.1.3 Business Challenges
4.6.1.4 Business Drivers
4.6.2 Application
4.6.2.1 China Agriculture Technology-as-a-Service Market (by Application), $Million, 2021-2027
4.6.3 Product
4.6.3.1 China Agriculture Technology-as-a-Service Market (by Service Type), $Million, 2021-2027
4.6.3.2 China Agriculture Technology-as-a-Service Market (by Pricing), $Million, 2021-2027
4.7 Asia-Pacific
4.7.1 Market
4.7.1.1 Buyer Attributes
4.7.1.2 Key Providers in Asia-Pacific
4.7.1.3 Business Drivers
4.7.1.4 Business Challenges
4.7.2 Application
4.7.2.1 Asia-Pacific Agriculture Technology-as-a-Service Market (by Application), $Million, 2021-2027
4.7.3 Product
4.7.3.1 Asia-Pacific Agriculture Technology-as-a-Service Market (by Service Type), $Million, 2021-2027
4.7.3.2 Asia-Pacific Agriculture Technology-as-a-Service Market (by Pricing), $Million, 2021-2027
4.7.3.3 Japan
4.7.3.3.1 Market
4.7.3.3.1.1 Buyer Attributes
4.7.3.3.1.2 Business Challenges
4.7.3.3.1.3 Business Drivers
4.7.3.4 Application
4.7.3.4.1 Japan Agriculture Technology-as-a-Service Market (by Application), $Million, 2021-2027
4.7.3.5 Product
4.7.3.5.1 Japan Agriculture Technology-as-a-Service Market (by Service Type), $Million, 2021-2027
4.7.3.5.2 Japan Agriculture Technology-as-a-Service Market (by Pricing), $Million, 2021-2027
4.7.3.6 India
4.7.3.6.1 Market
4.7.3.6.1.1 Buyer Attributes
4.7.3.6.1.2 Business Challenges
4.7.3.6.1.3 Business Drivers
4.7.3.7 Application
4.7.3.7.1 India Agriculture Technology-as-a-Service Market (by Application), $Million, 2021-2027
4.7.3.8 Product
4.7.3.8.1 India Agriculture Technology-as-a-Service Market (by Service Type), $Million, 2021-2027
4.7.3.8.2 India Agriculture Technology-as-a-Service Market (by Pricing), $Million, 2021-2027
4.7.3.9 Australia
4.7.3.9.1 Market
4.7.3.9.1.1 Buyer Attributes
4.7.3.9.1.2 Business Challenges
4.7.3.9.1.3 Business Drivers
4.7.3.10 Application
4.7.3.10.1 Australia Agriculture Technology-as-a-Service Market (by Application), $Million, 2021-2027
4.7.3.11 Product
4.7.3.11.1 Australia Agriculture Technology-as-a-Service Market (by Service Type), $Million, 2021-2027
4.7.3.11.2 Australia Agriculture Technology-as-a-Service Market (by Pricing), $Million, 2021-2027
4.7.3.12 Rest-of-Asia-Pacific
4.7.3.12.1 Market
4.7.3.12.1.1 Buyer Attributes
4.7.3.12.1.2 Business Challenges
4.7.3.12.1.3 Business Drivers
4.7.3.13 Application
4.7.3.13.1 Rest-of-Asia-Pacific Agriculture Technology-as-a-Service Market (by Application), $Million, 2021-2027
4.7.3.14 Product
4.7.3.14.1 Rest-of-Asia-Pacific Agriculture Technology-as-a-Service Market (by Service Type), $Million, 2021-2027
4.7.3.14.2 Rest-of-Asia-Pacific Agriculture Technology-as-a-Service Market (by Pricing), $Million, 2021-2027
5.1 Competitive Benchmarking
5.2 Company Profiles
5.2.1 AGRIVI
5.2.1.1 Company Overview
5.2.1.1.1 Role of AGRIVI in the Global Agriculture Technology-as-a-Service Market
5.2.1.1.2 Pricing and Product Portfolio
5.2.1.1.3 Target Customers
5.2.1.1.4 Challenges
5.2.1.2 Business Strategies
5.2.1.2.1 Product Developments
5.2.1.2.2 Business Expansion
5.2.1.3 Corporate Strategies
5.2.1.3.1 Mergers and Acquisitions
5.2.1.3.2 Partnerships, Joint Ventures, Collaborations, and Alliances
5.2.1.4 Analyst's View
5.2.2 IBM Corporation
5.2.2.1 Company Overview
5.2.2.1.1 Role of IBM Corporation in the Global Agriculture Technology-as-a-Service Market
5.2.2.1.2 Pricing and Product Portfolio
5.2.2.1.3 Target Customers
5.2.2.1.4 Challenges
5.2.2.2 Business Strategies
5.2.2.2.1 Product Developments
5.2.2.3 Corporate Strategies
5.2.2.3.1 Mergers and Acquisitions
5.2.2.3.2 Partnerships, Joint Ventures, Collaborations, and Alliances
5.2.2.4 Analyst's View
5.2.3 Hexagon Agriculture
5.2.3.1 Company Overview
5.2.3.1.1 Role of Hexagon Agriculture in the Global Agriculture Technology-as-a-Service Market
5.2.3.1.2 Pricing and Product Portfolio
5.2.3.1.3 Target Customers
5.2.3.1.4 Challenges
5.2.3.2 Business Strategies
5.2.3.3 Corporate Strategies
5.2.3.3.1 Mergers and Acquisitions
5.2.3.3.2 Partnerships, Joint Ventures, Collaborations, and Alliances
5.2.3.4 Analyst's View
5.2.4 Microsoft Corporation
5.2.4.1 Company Overview
5.2.4.1.1 Role of Microsoft Corporation in the Global Agriculture Technology-as-a-Service Market
5.2.4.1.2 Pricing and Product Portfolio
5.2.4.1.3 Target Customers
5.2.4.1.4 Challenges
5.2.4.2 Business Strategies
5.2.4.2.1 Business Expansion
5.2.4.3 Corporate Strategies
5.2.4.3.1 Mergers and Acquisitions
5.2.4.3.2 Partnerships, Joint Ventures, Collaborations, and Alliances
5.2.4.4 Analyst's View
5.2.5 Topcon
5.2.5.1 Company Overview
5.2.5.1.1 Role of Topcon in the Global Agriculture Technology-as-a-Service Market
5.2.5.1.2 Pricing and Product Portfolio
5.2.5.1.3 Target Customers
5.2.5.1.4 Challenges
5.2.5.2 Business Strategies
5.2.5.2.1 Business Expansion
5.2.5.3 Corporate Strategies
5.2.5.3.1 Partnerships, Joint Ventures, Collaborations, and Alliances
5.2.5.4 Analyst's View
5.2.6 365FarmNet GmbH
5.2.6.1 Company Overview
5.2.6.1.1 Role of 365FarmNet GmbH in the Global Agriculture Technology-as-a-Service Market
5.2.6.1.2 Pricing and Product Portfolio
5.2.6.1.3 Target Customers
5.2.6.1.4 Challenges
5.2.6.2 Corporate Strategies
5.2.6.2.1 Partnerships, Collaborations, and Joint Ventures
5.2.6.3 Analyst's View
5.2.7 PrecisionHawk
5.2.7.1 Company Overview
5.2.7.1.1 Role of PrecisionHawk in the Global Agriculture Technology-as-a-Service Market
5.2.7.1.2 Pricing and Product Portfolio
5.2.7.1.3 Target Customers
5.2.7.1.4 Challenges
5.2.7.2 Business Strategies
5.2.7.2.1 Business Expansion
5.2.7.3 Corporate Strategies
5.2.7.3.1 Partnerships, Collaborations, and Joint Ventures
5.2.7.4 Analyst's View
5.2.8 Trimble Inc.
5.2.8.1 Company Overview
5.2.8.1.1 Role of Trimble Inc. in the Global Agriculture Technology-as-a-Service Market
5.2.8.1.2 Pricing and Product Portfolio
5.2.8.1.3 Target Customers
5.2.8.1.4 Challenges
5.2.8.2 Business Strategies
5.2.8.2.1 Product Developments
5.2.8.2.2 Business Expansion
5.2.8.3 Corporate Strategies
5.2.8.3.1 Partnerships, Collaborations, and Joint Ventures
5.2.8.3.2 Mergers and Acquisitions
5.2.8.4 Analyst's View
5.2.9 Deere & Company
5.2.9.1 Company Overview
5.2.9.1.1 Role of Deere & Company in the Global Agriculture Technology-as-a-Service Market
5.2.9.1.2 Pricing and Product Portfolio
5.2.9.1.3 Target Customers
5.2.9.1.4 Challenges
5.2.9.2 Business Strategies
5.2.9.2.1 Product Developments
5.2.9.3 Corporate Strategies
5.2.9.3.1 Partnerships, Collaborations, and Joint Ventures
5.2.9.3.2 Mergers and Acquisitions
5.2.9.4 Analyst's View
5.2.10 DJI
5.2.10.1 Company Overview
5.2.10.1.1 Role of DJI in the Global Agriculture Technology-as-a-Service Market
5.2.10.1.2 Pricing and Product Portfolio
5.2.10.1.3 Target Customers
5.2.10.1.4 Challenges
5.2.10.2 Business Strategies
5.2.10.2.1 Product Developments
5.2.10.3 Corporate Strategies
5.2.10.3.1 Partnerships, Collaborations, and Joint Ventures
5.2.10.4 Analyst's View
5.2.11 KUBOTA Corporation
5.2.11.1 Company Overview
5.2.11.1.1 Role of KUBOTA Corporation in the Global Agriculture Technology-as-a-Service Market
5.2.11.1.2 Pricing and Product Portfolio
5.2.11.1.3 Target Customers
5.2.11.1.4 Challenges
5.2.11.2 Business Strategies
5.2.11.2.1 Product Developments
5.2.11.2.2 Business Expansion
5.2.11.3 Corporate Strategies
5.2.11.3.1 Partnerships, Collaborations, and Joint Ventures
5.2.11.3.2 Mergers and Acquisitions
5.2.11.4 Analyst's View
5.2.12 Small Robot Company
5.2.12.1 Company Overview
5.2.12.1.1 Role of Small Robot Company in the Global Agriculture Technology-as-a-Service Market
5.2.12.1.2 Pricing and Product Portfolio
5.2.12.1.3 Target Customers
5.2.12.1.4 Challenges
5.2.12.2 Business Strategies
5.2.12.2.1 Product Developments
5.2.12.3 Corporate Strategies
5.2.12.3.1 Partnerships, Collaborations, and Joint Ventures
5.2.12.4 Analyst's View
5.2.13 Naïo Technologies
5.2.13.1 Company Overview
5.2.13.1.1 Role of Naïo Technologies in the Global Agriculture Technology-as-a-Service Market
5.2.13.1.2 Pricing and Product Portfolio
5.2.13.1.3 Target Customers
5.2.13.1.4 Challenges
5.2.13.2 Business Strategies
5.2.13.2.1 Product Developments
5.2.13.2.2 Business Expansion
5.2.13.2.3 Analyst's View
5.2.14 SGS SA
5.2.14.1 Company Overview
5.2.14.1.1 Role of SGS SA in the Global Agriculture Technology-as-a-Service Market
5.2.14.1.2 Pricing and Product Portfolio
5.2.14.1.3 Target Customers
5.2.14.1.4 Challenges
5.2.14.2 Business Strategies
5.2.14.2.1 Product Developments
5.2.14.2.2 Business Expansion
5.2.14.3 Corporate Strategies
5.2.14.3.1 Partnerships, Collaborations, and Joint Ventures
5.2.14.4 Analyst's View
5.2.15 TeeJet Technologies
5.2.15.1 Company Overview
5.2.15.1.1 Role of TeeJet Technologies in the Global Agriculture Technology-as-a-Service Market
5.2.15.1.2 Pricing and Product Portfolio
5.2.15.1.3 Target Customers
5.2.15.1.4 Challenges
5.2.15.2 Business Strategies
5.2.15.2.1 Product Developments
5.2.15.3 Analyst's View
6.1 Data Sources
6.1.1 Primary Data Sources
6.1.2 Secondary Data Sources
6.2 Market Research Methodology
6.2.1 Data Triangulation
6.2.1.1 Market Estimation and Forecast
6.2.2 Assumptions
6.2.3 Limitations
Table 1: Advantages-Disadvantages of Per Pass/Service Model
Table 2: Advantages-Disadvantages of Percentage of Yield Bump/Gain Model
Table 3: Summary Table of Satellite Sensor Features
Table 4: Cost Features of Satellite Sensors
Table 5: Key Players with ARaaS Business Model and Their Products
Table 6: Key Players with ADaaS Business Model and Their Products
Table 7: Business Expansions (by Company), January 2019-November 2022
Table 8: Key Yield Mapping and Monitoring Services in Global Agriculture Technology-as-a-Service Market
Table 9: Global Agriculture Technology-as-a-Service Market (by Application), $Million, 2021-2027
Table 10: Key Players with Software-as-a-Service Service Type
Table 11: Key Players with Equipment-as-a-Service Service Type
Table 12: Global Agriculture Technology-as-a-Service Market (by Service Type), $Million, 2021-2027
Table 13: Global Agriculture Technology-as-a-Service Market (by Pricing), $Million, 2021-2027
Table 14: Agriculture Technology-as-a-Service Market (by Region), $Million, 2021-2027
Table 15: North America Agriculture Technology-as-a-Service Market (by Application), $Million, 2021-2027
Table 16: North America Agriculture Technology-as-a-Service Market (by Service Type), $Million, 2021-2027
Table 17: North America Agriculture Technology-as-a-Service Market (by Pricing), $Million, 2021-2027
Table 18: U.S. Agriculture Technology-as-a-Service Market (by Application), $Million, 2021-2027
Table 19: U.S. Agriculture Technology-as-a-Service Market (by Service Type), $Million, 2021-2027
Table 20: U.S. Agriculture Technology-as-a-Service Market (by Pricing), $Million, 2021-2027
Table 21: Canada Agriculture Technology-as-a-Service Market (by Application), $Million, 2021-2027
Table 22: Canada Agriculture Technology-as-a-Service Market (by Service Type), $Million, 2021-2027
Table 23: Canada Agriculture Technology-as-a-Service Market (by Pricing), $Million, 2021-2027
Table 24: Mexico Agriculture Technology-as-a-Service Market (by Application), $Million, 2021-2027
Table 25: Mexico Agriculture Technology-as-a-Service Market (by Service Type), $Million, 2021-2027
Table 26: Mexico Agriculture Technology-as-a-Service Market (by Pricing), $Million, 2021-2027
Table 27: South America Agriculture Technology-as-a-Service Market (by Application), $Million, 2021-2027
Table 28: South America Agriculture Technology-as-a-Service Market (by Service Type), $Million, 2021-2027
Table 29: South America Agriculture Technology-as-a-Service Market (by Pricing), $Million, 2021-2027
Table 30: Brazil Agriculture Technology-as-a-Service Market (by Application), $Million, 2021-2027
Table 31: Brazil Agriculture Technology-as-a-Service Market (by Service Type), $Million, 2021-2027
Table 32: Brazil Agriculture Technology-as-a-Service Market (by Pricing), $Million, 2021-2027
Table 33: Argentina Agriculture Technology-as-a-Service Market (by Application), $Million, 2021-2027
Table 34: Argentina Agriculture Technology-as-a-Service Market (by Service Type), $Million, 2021-2027
Table 35: Argentina Agriculture Technology-as-a-Service Market (by Pricing), $Million, 2021-2027
Table 36: Rest-of-South America Agriculture Technology-as-a-Service Market (by Application), $Million, 2021-2027
Table 37: Rest-of-South America Agriculture Technology-as-a-Service Market (by Service Type), $Million, 2021-2027
Table 38: Rest-of-South America Agriculture Technology-as-a-Service Market (by Pricing), $Million, 2021-2027
Table 39: Europe Agriculture Technology-as-a-Service Market (by Application), $Million, 2021-2027
Table 40: Europe Agriculture Technology-as-a-Service Market (by Service Type), $Million, 2021-2027
Table 41: Europe Agriculture Technology-as-a-Service Market (by Pricing), $Million, 2021-2027
Table 42: Germany Agriculture Technology-as-a-Service Market (by Application), $Million, 2021-2027
Table 43: Germany Agriculture Technology-as-a-Service Market (by Service Type), $Million, 2021-2027
Table 44: Germany Agriculture Technology-as-a-Service Market (by Pricing), $Million, 2021-2027
Table 45: France Agriculture Technology-as-a-Service Market (by Application), $Million, 2021-2027
Table 46: France Agriculture Technology-as-a-Service Market (by Service Type), $Million, 2021-2027
Table 47: France Agriculture Technology-as-a-Service Market (by Pricing), $Million, 2021-2027
Table 48: Ukraine Agriculture Technology-as-a-Service Market (by Application), $Million, 2021-2027
Table 49: Ukraine Agriculture Technology-as-a-Service Market (by Service Type), $Million, 2021-2027
Table 50: Ukraine Agriculture Technology-as-a-Service Market (by Pricing), $Million, 2021-2027
Table 51: Greece Agriculture Technology-as-a-Service Market (by Application), $Million, 2021-2027
Table 52: Greece Agriculture Technology-as-a-Service Market (by Service Type), $Million, 2021-2027
Table 53: Greece Agriculture Technology-as-a-Service Market (by Pricing), $Million, 2021-2027
Table 54: The Netherlands Agriculture Technology-as-a-Service Market (by Application), $Million, 2021-2027
Table 55: The Netherlands Agriculture Technology-as-a-Service Market (by Service Type), $Million, 2021-2027
Table 56: The Netherlands Agriculture Technology-as-a-Service Market (by Pricing), $Million, 2021-2027
Table 57: Belgium Agriculture Technology-as-a-Service Market (by Application), $Million, 2021-2027
Table 58: Belgium Agriculture Technology-as-a-Service Market (by Service Type), $Million, 2021-2027
Table 59: Belgium Agriculture Technology-as-a-Service Market (by Pricing), $Million, 2021-2027
Table 60: Switzerland Agriculture Technology-as-a-Service Market (by Application), $Million, 2021-2027
Table 61: Switzerland Agriculture Technology-as-a-Service Market (by Service Type), $Million, 2021-2027
Table 62: Switzerland Agriculture Technology-as-a-Service Market (by Pricing), $Million, 2021-2027
Table 63: Turkey Agriculture Technology-as-a-Service Market (by Application), $Million, 2021-2027
Table 64: Turkey Agriculture Technology-as-a-Service Market (by Service Type), $Million, 2021-2027
Table 65: Turkey Agriculture Technology-as-a-Service Market (by Pricing), $Million, 2021-2027
Table 66: Rest-of-Europe Agriculture Technology-as-a-Service Market (by Application), $Million, 2021-2027
Table 67: Rest-of-Europe Agriculture Technology-as-a-Service Market (by Service Type), $Million, 2021-2027
Table 68: Rest-of-Europe Agriculture Technology-as-a-Service Market (by Pricing), $Million, 2021-2027
Table 69: U.K. Agriculture Technology-as-a-Service Market (by Application), $Million, 2021-2027
Table 70: U.K. Agriculture Technology-as-a-Service Market (by Service Type), $Million, 2021-2027
Table 71: U.K. Agriculture Technology-as-a-Service Market (by Pricing), $Million, 2021-2027
Table 72: Middle East and Africa Agriculture Technology-as-a-Service Market (by Application), $Million, 2021-2027
Table 73: Middle East and Africa Agriculture Technology-as-a-Service Market (by Service Type), $Million, 2021-2027
Table 74: Middle East and Africa Agriculture Technology-as-a-Service Market (by Pricing), $Million, 2021-2027
Table 75: South Africa Agriculture Technology-as-a-Service Market (by Application), $Million, 2021-2027
Table 76: South Africa Agriculture Technology-as-a-Service Market (by Service Type), $Million, 2021-2027
Table 77: South Africa Agriculture Technology-as-a-Service Market (by Pricing), $Million, 2021-2027
Table 78: Israel Agriculture Technology-as-a-Service Market (by Application), $Million, 2021-2027
Table 79: Israel Agriculture Technology-as-a-Service Market (by Service Type), $Million, 2021-2027
Table 80: Israel Agriculture Technology-as-a-Service Market (by Pricing), $Million, 2021-2027
Table 81: Rest-of-MEA Agriculture Technology-as-a-Service Market (by Application), $Million, 2021-2027
Table 82: Rest-of-MEA Agriculture Technology-as-a-Service Market (by Service Type), $Million, 2021-2027
Table 83: Rest-of-MEA Agriculture Technology-as-a-Service Market (by Pricing), $Million, 2021-2027
Table 84: China Agriculture Technology-as-a-Service Market (by Application), $Million, 2021-2027
Table 85: China Agriculture Technology-as-a-Service Market (by Service Type), $Million, 2021-2027
Table 86: China Agriculture Technology-as-a-Service Market (by Pricing), $Million, 2021-2027
Table 87: Asia-Pacific Agriculture Technology-as-a-Service Market (by Application), $Million, 2021-2027
Table 88: Asia-Pacific Agriculture Technology-as-a-Service Market (by Service Type), $Million, 2021-2027
Table 89: Asia-Pacific Agriculture Technology-as-a-Service Market (by Pricing), $Million, 2021-2027
Table 90: Japan Agriculture Technology-as-a-Service Market (by Application), $Million, 2021-2027
Table 91: Japan Agriculture Technology-as-a-Service Market (by Service Type), $Million, 2021-2027
Table 92: Japan Agriculture Technology-as-a-Service Market (by Pricing), $Million, 2021-2027
Table 93: India Agriculture Technology-as-a-Service Market (by Application), $Million, 2021-2027
Table 94: India Agriculture Technology-as-a-Service Market (by Service Type), $Million, 2021-2027
Table 95: India Agriculture Technology-as-a-Service Market (by Pricing), $Million, 2021-2027
Table 96: Australia Agriculture Technology-as-a-Service Market (by Application), $Million, 2021-2027
Table 97: Australia Agriculture Technology-as-a-Service Market (by Service Type), $Million, 2021-2027
Table 98: Australia Agriculture Technology-as-a-Service Market (by Pricing), $Million, 2021-2027
Table 99: Rest-of-Asia-Pacific Agriculture Technology-as-a-Service Market (by Application), $Million, 2021-2027
Table 100: Rest-of-Asia-Pacific Agriculture Technology-as-a-Service Market (by Service Type), $Million, 2021-2027
Table 101: Rest-of-Asia-Pacific Agriculture Technology-as-a-Service Market (by Pricing), $Million, 2021-2027
Table 102: AGRIVI: Service portfolio
Table 103: AGRIVI: Product Development
Table 104: AGRIVI: Business Expansion
Table 105: AGRIVI: Mergers and Acquisitions
Table 106: AGRIVI: Partnerships, Joint Ventures, Collaborations, and Alliances
Table 107: IBM Corporation: Service portfolio
Table 108: IBM Corporation: Product Development
Table 109: IBM Corporation: Mergers and Acquisitions
Table 110: IBM Corporation: Partnerships, Joint Ventures, Collaborations, and Alliances
Table 111: Hexagon Agriculture: Service portfolio
Table 112: Hexagon Agriculture: Product Development
Table 113: Hexagon Agriculture: Mergers and Acquisitions
Table 114: Hexagon Agriculture: Partnerships, Joint Ventures, Collaborations, and Alliances
Table 115: Microsoft Corporation: Service portfolio
Table 116: Microsoft Corporation: Product Development
Table 117: Microsoft Corporation: Business Expansion
Table 118: Microsoft Corporation: Mergers and Acquisitions
Table 119: Microsoft Corporation: Partnerships, Joint Ventures, Collaborations, and Alliances
Table 120: Topcon: Service portfolio
Table 121: Topcon: Product Development
Table 122: Topcon: Business Expansion
Table 123: Topcon: Partnerships, Joint Ventures, Collaborations, and Alliances
Table 124: 365FarmNet GmbH: Service portfolio
Table 125: Partnerships, Collaborations, and Joint Ventures
Table 126: PrecisionHawk: Service portfolio
Table 127: PrecisionHawk: Business Expansion
Table 128: PrecisionHawk: Partnerships, Collaborations, and Joint Ventures
Table 129: Trimble Inc.: Service portfolio
Table 130: Trimble Inc.: Product Development
Table 131: Trimble Inc.: Business Expansion
Table 132: Trimble Inc.: Partnerships, Collaborations, and Joint Ventures
Table 133: Trimble Inc.: Mergers and Acquisitions
Table 134: Deere & Company: Service portfolio
Table 135: Deere & Company: Product Development
Table 136: Deere & Company: Partnerships, Collaborations, and Joint Ventures
Table 137: Deere & Company: Mergers and Acquisitions
Table 138: DJI: Service portfolio
Table 139: DJI: Product Development
Table 140: DJI: Partnerships, Collaborations, and Joint Ventures
Table 141: KUBOTA Corporation: Service portfolio
Table 142: KUBOTA Corporation: Product Development
Table 143: KUBOTA Corporation: Business Expansion
Table 144: KUBOTA Corporation: Partnerships, Collaborations, and Joint Ventures
Table 145: KUBOTA Corporation: Mergers and Acquisitions
Table 146: Small Robot Company: Service portfolio
Table 147: Small Robot Company: Product Development
Table 148: Small Robot Company: Partnerships, Collaborations, and Joint Ventures
Table 149: Naïo Technologies: Service portfolio
Table 150: Naïo Technologies: Product Development
Table 151: Naïo Technologies: Business Expansion
Table 152: SGS SA: Service portfolio
Table 153: SGS SA: Product Development
Table 154: SGS SA: Business Expansion
Table 155: SGS SA: Partnerships, Collaborations, and Joint Ventures
Table 156: TeeJet Technologies: Service portfolio
Table 157: TeeJet Technologies: Product Development
Figure 1: Global Agriculture Technology-as-a-Service (ATaaS) Market, $Million, 2021-2027
Figure 2: Market Dynamics of the Global Agriculture Technology-as-a-Service (ATaaS) Market
Figure 3: Global Agriculture Technology-as-a-Service (ATaaS) Market (by Application), $Million, 2021-2027
Figure 4: Global Agriculture Technology-as-a-Service (ATaaS) Market (by Service Type), $Million, 2021-2027
Figure 5: Global Agriculture Technology-as-a-Service (ATaaS) Market (by Pricing), $Million, 2021-2027
Figure 6: Global Agriculture Technology-as-a-Service (ATaaS) Market (by Region), $Million, 2021
Figure 7: Global Agriculture Technology-as-a-Service Market Coverage
Figure 8: Advantages and Disadvantages of Bundled Per Acre Model
Figure 9: Break-Even Analysis
Figure 10: Mathematical Representation of Break-Even Analysis
Figure 11: Break-Even Point of Satellite Images (ha)
Figure 12: Factors Analyzed in Business Dynamics
Figure 13: Number of People Employed in Agriculture, 2006 - 2019
Figure 14: Share of Agriculture Land by Small Farms
Figure 15: Cyber Attack Incidents with $1 Million+ Reported Losses, 2014 to 2019
Figure 16: Cyber Attack Consumer Complaints Reported to FBI, 2014 to 2019
Figure 17: Share of Key Market Strategies and Developments, January 2019-November 2022
Figure 18: Share of Product Developments and Innovations (by Company), January 2019- November 2022
Figure 19: Share of Mergers and Acquisitions (by Company), January 2019-November 2022
Figure 20: Share of Partnerships, Collaborations, and Joint Ventures (by Company), January 2019-November 2022
Figure 21: Snapshot of Corporate Strategies Adopted by the Players in the Global Agriculture Technology as a Service Market
Figure 22: Global Agriculture Technology-as-a-Service Market (by Application)
Figure 23: Key Soil Management Services in Global Agriculture Technology-as-a-Service Market
Figure 24: Key Crop Health Management Services in Global Agriculture Technology-as-a-Service Market
Figure 25: Global Agriculture Technology-as-a-Service Market (by Service Type)
Figure 26: Global Agriculture Technology-as-a-Service Market (by Pricing)
Figure 27: Competitive Market High and Low Matrix
Figure 28: Sources of Secondary Research
Figure 29: Report Methodology
Figure 30: Data Triangulation
Figure 31: Top-Down and Bottom-Up Approach for Market Estimation
Market Report Coverage
Agriculture Technology-as-a-Service Market

Base Year

2021

Market Size in 2022

$1,606.9 Million

Forecast Period

2022-2027

Value Projection and Estimation by 2027

$3,438.6 Million

CAGR During Forecast Period

16.43%

Number of Tables

157

Number of Pages

265

Number of Figures

31
Key Market Players and Competition Synopsis
The companies that are profiled have been selected based on inputs gathered from primary experts and analyzing the company's coverage, product portfolio, its market penetration.
The top segment players who are leading include micro-irrigation solution providers, which capture a significant chunk of share in the market.
Key Companies Profiled
• AGRIVI
• IBM Corporation
• Hexagon Agriculture
• Microsoft Corporation
• Topcon
• 365FarmNet GmbH
• PrecisionHawk
• Trimble Inc.
• Deere & Company
• DJI
• KUBOTA Corporation
• Small Robot Company
• Naïo Technologies
• SGS SA
• TeeJet Technologies
How can this report add value to end users?
Product/Innovation Strategy: The product segment helps the reader understand the different types of agriculture technology-as-a-service products available for deployment in the agricultural and non-agricultural industries. Moreover, the study provides the reader with a detailed understanding of the products needed to be used for particular applications, as well as the services (SaaS and EaaS) primarily provided through agriculture technology-as-a-service. This report will provide forecast demand for each product and detailed information regarding major manufacturers.
Growth/Marketing Strategy: The global agriculture technology-as-a-service market has seen major developments by key players operating in the market, such as business expansions, partnerships, collaborations, and joint ventures. The favored strategy for the companies has been partnerships, collaborations, mergers and acquisitions, and joint ventures to strengthen their positions in the agriculture technology-as-a-service market. For instance, in October 2019, DJI Agriculture signed a contract with Syngenta Japan. In Japan, the two companies will collaborate on projects related to smart agriculture technology research and development.
Competitive Strategy: The study analyzes and profiles key players in the global agriculture technology-as-a-service market, including precision agriculture and smart agriculture solution providers, which offer these solutions on a pay-per-use or subscription basis. In order to provide the reader with a clear picture of the market landscape, a detailed competitive benchmarking of players operating in the global agriculture technology-as-a-service market has been conducted. The reader will also be able to understand the market's untapped revenue pockets through comprehensive competitive strategies, such as partnerships, agreements, and collaborations.
Industry and Technology Overview
Global Agriculture Technology-as-a-Service Market Industry Overview
The global agriculture technology-as-a-service (ATaaS) market was valued at $1,606.9 million in 2022 and is expected to reach $3,438.6 million in 2027, with a CAGR of 16.43% during 2022-2027. The growth in the global agriculture technology-as-a-service market is expected to be driven by growing demand for precision agriculture solutions from small-scale farmers.
Market Lifecycle Stage
Agriculture technology-as-a-service (ATaaS) is in its growth stage. Farmers are increasingly looking for more advanced and efficient solutions to manage their operations, resulting in an increase in demand for ATaaS. This has led to growth in the number of companies offering ATaaS solutions, as well as an increase in investment in the industry. ATaaS will continue to grow as the market matures, leading to more innovative solutions and increased adoption by farmers and agribusinesses. As new technologies and customer needs emerge, the ATaaS market is likely to continue growing and developing.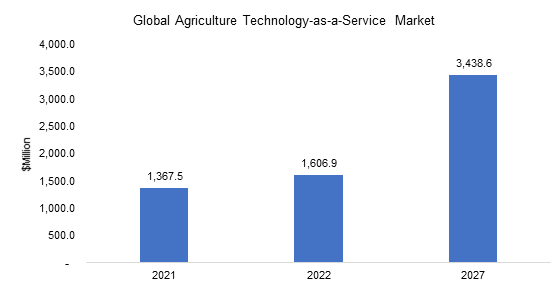 Impact
• Agricultural technology-as-a-service (ATaaS) helps farmers streamline their operations and increase efficiency by automating tasks such as crop monitoring, soil analysis, and resource management. This can result in improved yields and lower costs.
• ATaaS provides farmers with detailed and real-time information about their crops, enabling them to make informed decisions about planting, fertilizing, and pest control. This results in a more precise and targeted application of resources, leading to higher yields and a reduction in waste.
Impact of COVID-19
The pandemic has resulted in disrupting the supply chain, leading to delays in product delivery and installation. Additionally, the pandemic has also resulted in reduced consumer spending and a slowdown in economic activity, impacting the demand for ATaaS solutions.
However, the pandemic has also accelerated the adoption of digital technologies in the agricultural sector, including ATaaS. With social distancing measures in place, farmers have had to rely more on digital solutions for farm management, leading to an increase in the demand for ATaaS solutions.
Market Segmentation:
Segmentation 1: by Application
• Yield Mapping and Monitoring
• Soil Management and Testing
• Crop Health Monitoring
• Irrigation
• Others
Crop health monitoring is expected to generate the highest revenue in the ATaaS market due to its importance in ensuring the overall health and productivity of crops. With ATaaS, farmers can monitor the health of their crops in real-time and make informed decisions about their management practices. This results in increased crop yield and profitability. Advanced sensors and technologies like remote sensing, drones, and precision agriculture are integrated into ATaaS solutions for accurate crop monitoring. This helps in the early detection of potential problems like disease, pest infestations, and soil degradation, leading to proactive management and timely intervention. The increasing adoption of ATaaS in the agricultural sector will drive the growth of the crop health monitoring segment, thereby generating the highest revenue in the ATaaS market.
Segmentation 2: by Service Type
• Software-as-a-Service (SaaS)
• Equipment-as-a-Service (EaaS)
Software-as-a-service (SaaS) is projected to drive the growth of the agriculture technology-as-a-service (ATaaS) market due to its advantages, such as ease of deployment, low cost, and user-friendly interfaces. SaaS platforms allow farmers to access technology-driven agriculture solutions and services remotely, reducing the need for large capital expenditures. It is expected that SaaS-based ATaaS will gain traction as cloud computing and IoT technologies become more popular, thereby driving the market's growth.
Segmentation 3: by Pricing
• Subscription
• Pay-Per-Use
In the ATaaS market, subscription pricing models have become increasingly popular among farmers due to their cost-effectiveness and flexibility. Farmers can subscribe to these services on a monthly or annual basis and receive regular software updates and technical support. This eliminates the need for large upfront investments in equipment and technology, allowing farmers to better manage their costs and stay up-to-date with the latest advancements in the industry. Additionally, subscription models provide the ability to scale up or down based on their needs and production goals, offering greater flexibility and cost savings compared to traditional pay-per-use models.
Segmentation 4: by Region
• North America - U.S., Canada, and Mexico
• Europe - Germany, Turkey, Ukraine, France, Greece, The Netherlands, Belgium, Switzerland, and Rest-of-Europe
• China
• U.K.
• Asia-Pacific - India, Japan, Australia, and Rest-of-Asia-Pacific
• South America - Brazil, Argentina, and Rest-of-South America
• Middle East and Africa - Israel, South Africa, and Rest-of-Middle East and Africa
North America generated the highest revenue of over $547.0 million in 2021 and is expected to remain the largest region by 2027. A number of factors are expected to contribute to North America's lead in ATaaS, including the presence of major players in the agriculture sector, strong government support, and a high adoption rate of advanced technologies such as VRT, UAVs, and robots. Additionally, the region has a large number of well-established agribusinesses and farmers looking for innovative and cost-effective ways to improve their operations. The region also has a well-developed infrastructure and a high level of awareness about the benefits of ATaaS, which is further driving the market growth.
Recent Developments in Global Agriculture Technology-as-a-Service (ATaaS) Market
• In November 2022, a new generation of monitoring robots called Tom v4 was launched by Small Robot Company. The commercialization of this product to both farmers and corporations is a major milestone. With a ground sample distance of 0.28mm per pixel, Tom v4 is one of the highest-resolution crop-scanning technologies. As a result, Tom can detect early signs of disease outbreaks and see individual water droplets on leaves.
• In October 2021, Kubota and Topcon signed a collaborative research agreement in smart agriculture. The companies will work together to innovate for future commercialization through collaborative research in smart agriculture, bringing together the technologies and know-how developed by each company.
• In October 2021, Naïo Technologies announced plans to expand internationally in the agricultural robotics market. With the aim of consolidating its worldwide growth and launching a new robot-as-a-service (RaaS) model, the company is moving beyond its technology innovation context.
• In August 2021, Deere & Company acquired Bear Flag Robotics, an agriculture technology startup based in Silicon Valley. Bear Flag's technology enables a machine to perform autonomously. Bear Flag's technology complements Deere's technology initiatives and goals to help farmers achieve the best possible outcomes and solve meaningful challenges through advanced technology, including autonomy.
Demand – Drivers and Limitations
Following are the demand drivers for the agriculture technology-as-a-service market:
• Decreasing Agriculture Workforce
• Increasing Area under Permanent Crops
• Increased Yield
• Low Capital Investment for Customers
The market is expected to face some limitations, too, due to the following challenges:
• Cyber and Online Data Security
• Reluctance to Adopt and Lack of Technical Awareness among Farmers
• Limited Infrastructure and Workforce to Provide EaaS Solutions
Analyst's Thoughts
According to Debraj Chakraborty, Principal Analyst, BIS Research, "The agriculture technology-as-a-service (ATaaS) market is rapidly expanding due to a growing emphasis on food security and the need to enhance current agricultural production systems. The market is fueled by the adoption of precision agriculture and a rising demand for affordable farming solutions. ATaaS provides several benefits, such as reduced capital investment, upgradability, and higher yields, making it a preferred option for small-scale farmers."
Agriculture Technology-as-a-Service Market - A Global and Regional Analysis
Focus on Product, Application, and Country Analysis - Analysis and Forecast, 2022-2027